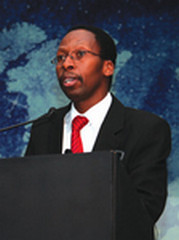 Rhodes > Latest News > 2013
Old Rhodian over moon at award
Date Released:
Mon, 2 September 2013 08:59 +0200
THE head of the South National Space Agency (Sansa) is reaching for the stars after receiving a prestigious Rhodes University award.
Trail-blazing Sowetospace scientist Dr Sandile Malinga – who made history 12 years ago when he became the first black South African to obtain a PhD in highly specialised meteor physics – was awarded the Distinguished Old Rhodian Award in Grahamstown.
Old Rhodian president Professor Rod Walker said Malinga enrolled for a two-year BSc Honours programme in physics and electronics in 1991 – and never looked back. Instead of resting on his laurels, Malinga completed his MSc in 1995 before getting his PhD in 2001 and becoming a leader in his field.
"He is an excellent role model, community player and, as CEO of Sansa, is making a significant difference to this country and contribution to society in general."
Since getting his PhD, Malinga has enjoyed a meteoric rise and has helped government committees develop the Space Agency Act and nurture the idea that space is vital to the future development of the African continent.
In 2010 he was appointed caretaker of the yet-to-be-established space agency which culminated in the creation of Sansa.
Malinga yesterday said the Rhodes award was extra special. "It was a truly humbling moment to receive this award and to be recognised as a member of such an elite group of achievers to have studied at this esteemed institution.
"I would like to encourage our youth, especially those from disadvantaged backgrounds, to see what can be done with passion and perseverance to succeed."
He said the youth of today could also reach African for the stars – if they enough.
"You can achieve great things if you work hard and strive for excellence
tried hard . . . this is something I try and live daily through my current position." —

By: David Macgregor
Article Source: The Daily Dispatch
Source: