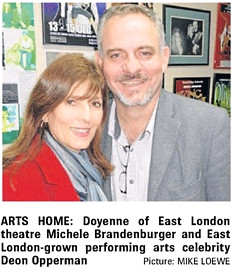 Rhodes > Latest News > 2013
Old Rhodian returns to his roots with festival
Date Released:
Mon, 15 October 2012 14:59 +0200
EAST London 1970s child theatre star Deon Opperman is returning to his roots in promoting the fast-growing Eastern Cape High School Drama Festival. Opperman, now a multi award-winning actor, playwright, and theatre and television producer in Johannesburg, was invited back to his hometown by East London's doyenne of theatre, Michele Brandenburger.
Brandenburger is the director of the FNB Alexander Playhouse Eastern Cape High School Drama Festival and is an honorary life president of the city's longstanding Dramsoc. Opperman and Brandenburger were interviewed after Wednesday night's four performances by Cambridge, Gonubie and Hudson high schools and that of the Diocescan School for Girls and St Andrew's College.
The pair said the competition, which started with an invite three years ago by Brandenburger for Opperman to adjudicate an Eastern Cape version of high school drama competitions, had grown from a handful of schools to 20 entries this year. Opperman also agreed to become a patron of the festival, and this year secured a part sponsorship from FNB.
The festival awards the winning school R10 000, and a R35 000 university bursary goes to the best performer for studies of their choice. In the past two years, this money, plus a larger amount for running costs, came from a private donor, who preferred to remain anonymous.
The top three plays will be performed at a gala show tonight at the Guild Theatre which will also be attended by FNB's regional director, Rocco Joubert Opperman quipped: "Parents of sporty kids can now also encourage them to have a go at drama - to help pay for those university fees! "East London is legendary for theatre.
It has produced a robust and vibrant amateur dramatic scene." Opperman has controlling shares in three companies in Johannesburg - a consultancy and a theatre and television company - and has four degrees, including one from Rhodes University and a Wits masters degree in business administration. His first major role, he said, was when a lead actor in the Playways Nursery school in East London was unable to perform.
After Opperman enthusiastically put up his hand, the six-year-old sang his heart out to a little girl on stage to the words of the nursery rhyme: Soldier Soldier, Won't You Marry Me? He went on to perform in the famous Vincent Primary School plays which packed out the Guild Theatre. But his local breakthrough came when, as a 13-year-old, he made it onto Dramsoc's stage playing the part of the artful dodger in Oliver Twist in 1975.
These childhood experiences meant that when he got the call from Bandenburger to help out in East London, he responded willingly. Now, with a bank taking an interest in sponsorship, he and Brandenburger say their next step is to invite the winners of provincial high school competitions in Gauteng, the Western Cape and others, to East London to take part in a national showdown. — mikel@dispatch.co.za ARTS HOME: Doyenne of East London theatre Michele Brandenburger and East London-grown performing arts celebrity Deon Opperman
Source: Daily Dispatch
By MIKE LOEWE
Source: