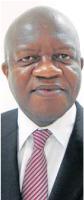 Rhodes > Latest News > 2013
Old Rhodian to head Geoscience body
Date Released:
Mon, 10 December 2012 12:59 +0200
THE Council for Geoscience has appointed Mxolisi Kota as CEO.
He will replace Dr Thibedi Ramontja, who joined the Department of Mineral Resources as director-general in 2011.
Kota comes from the Anglo American Khula Mining Fund, a private equity-style fund, where he was fund manager.
He began his geology career in the KwaZulu-Natal regional office of the Council for Geoscience as a field geologist, where his responsibilities involved systematic regional geological and geotechnical mapping and the study of various aspects of the economic geology, regolith deposits and associated landscape environments of the KwaZulu-Natal province.
In 2002, Kota conducted regional reconnaissance geological field mapping investigations in the Nampula province, Mozambique, as part of the Council for Geoscience team working on a project funded by the World Bank, the African Development Bank, the Nordic Development Fund and the South African government to develop mineral resource management capacity in that country.
Kota has a BSc (honours) in geology and applied geology from the then University of Natal, an MSc in exploration geology from Rhodes University, an MBA from the University of Stellenbosch Business School and a postgraduate diploma in financial strategy from the Said Business School, University of Oxford in the UK.
He is a member of the Geological Society of South Africa and Southern African Institute of Mining and Metallurgy. He is also on the governing council of the Geological Society of South Africa.
Caption: GEOLOGIST: Mxolisi Kota
Source: Sunday Times
Source: