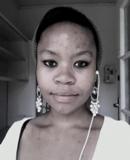 Rhodes > Latest News > 2013
PhD student to participate at international workshop
Date Released:
Mon, 27 May 2013 11:59 +0200
A PhD candidate with the Institute for Environmental Biotechnology (EBRU) at Rhodes University, Prudence Mambo has been selected to participate in an Advanced Academic Research Institute workshop from June 8 to June 22 at Brown University in Providence, Rhode Island in America.
The Brown International Advanced Research Institute is a faculty development initiative that brings promising young scholars from the developing countries together with leading researchers in their fields for mentorship opportunities and intensive workshops.
Over the past four years 500 alumni have been brought together from over 80 countries.
"As a woman in a male dominated field, I will grab this opportunity, immerse myself with knowledge and learn from experts that I will interact with," she says.
"My chosen field of study is sustainable waste water remediation specifically the integrated algae pond system (IAPS). Currently Rhodes University has the only operational pilot plant in the country."
"I am water centric, so I hope to network with like-minded individuals in order to develop professional bonds as I want to eventually enter the sustainable development sector," says Mambo.
She says Brown will afford her the opportunity to develop as a young researcher. She will use the knowledge attained as a bio-entrepreneur in the near future.
"I genuinely feel this is an invaluable opportunity to market my chosen field of study, the skills I have acquired at Rhodes and the varsity as a whole," she says. "I also feel that it will be a wonderful platform to advertise African Women in Science while show-casing our innovation."
She believes that Africa has the potential to lead the way in terms of sustainable development, simply because our infrastructure has not developed concurrently with population increase.
"This affords us the opportunity to implement technologies that will ensure future generations have access to all the water reserves, we currently and are yet to utilize," added Mambo.
Source: