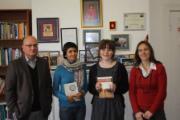 Rhodes > Latest News > 2013
Politics Honours student lauded for best essays
Date Released:
Thu, 13 September 2012 14:00 +0200
Two Honours students received certificates for their outstanding essays at a recent South African Association of Political Studies (SAAPS) conference, held in Port Elizabeth recently.
Sarita Pillay and Catherine Cunningham, both completing their Honours in Politics, were very surprised to hear that their essays were selected as the best submitted by universities around South Africa. Only three Honours awards were made and at the last SAAPS conference, only one Best Essay was awarded to an Honours student, which was also won by a Rhodes student.
Ms Cunningham's essay was entitled "NGOs: benevolent saviours or neo-colonial enablers?" Herein, she questions whether NGOs are the sole means through which social justice can be achieved, arguing that the current trend towards social movements may be more significant than we realise. "However, I deliberately didn't create a binary, suggesting rather that NGOs and social movements can work and move forward together," she said.
Ms Pillay's essay challenges the idea that the privileged should not act in solidarity with the struggles of the oppressed. She did a lot of reading and research on the subject, unpacking "the contentious issue of 'privilege' and how we define it" exploring the notion of solidarity between the privileged and the oppressed. She says, "It's pretty amazing" to be acknowledged for her work, adding, "Sally had faith in our essays, she sent them through..."
The essays were written as part of Dr Sally Matthews' new course on Poverty and Privilege which explores the relationship between the relatively privileged and the struggles of the oppressed. Exploring concepts such as charity and solidarity, the students developed an essay in lieu of writing an exam, submitting a proposal and taking part in an in depth discussion of their subject.
"Generally, essays are only submitted if we feel confident that they may win, as we only submit work that is excellent," says Dr Matthews.
The conference is held bi-annually where academics are invited to submit their students' work. Three Honours awards were presented for outstanding and enriching work in Political Science and the students were presented with a book: Nadine Gordimer: weaving together fiction, women and politics and New South African Review 2- new paths, old compromises?
James Danielson, also a Politics student, received a special mention for two essays entered on the theme, "Cosmopolitanism and convergence theory"- a critical analysis of the main theories of cosmopolitan democracy and its problematic implementation in a global context. He is currently developing a convergence theory which deals with the problem of implementation.
Photo and story by Anna-Karien Otto
Source: