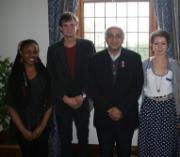 Rhodes > Latest News > 2013
Politics students receive Mandela Rhodes Scholarship
Date Released:
Thu, 13 December 2012 14:59 +0200
Three Rhodes University students, Lihle Mancoba, Abigail McDougall and Michael Glover, are amongst the 29 young Africans to receive the prestigious Mandela Rhodes Scholarship for 2013.
Both McDougall and Mancoba will complete postgraduate studies through the Department of Political and International Studies this year, pursing an Honours and a Postgraduate Diploma in International Politics, respectively.
The Mandela Rhodes Scholarship seeks to nurture young Africans who display academic strength and leadership ability by offering postgraduate bursaries. The scholarship supports students in a variety of disciplines and acknowledges many facets of an individual's character. Candidates must therefore display prowess in a number of areas, including community engagement.
Throughout their careers at Rhodes, both McDougall and Mancoba have been involved in community development, a focus which links significantly to their professional aspirations. For the last three years, McDougall has been an active member of Galela Amanzi, most recently as the chair of this student society which promotes environmental sustainability by forging links with local businesses and community groups with the goal of providing rain water tanks to impoverished areas.
By majoring in Human Kinetics & Ergonomics and Organisational Psychology, Mancoba hoped to understand how to optimise human potential. Also integrated into her academic experience has been her desire to serve, which has focused particularly on youth development. Mancoba coordinated an annual programme called the Young Women's Dialogue, an event that provides a platform for local Grade 8 to 10 girls to discuss challenges and realise their potential.
The scholarship had been on Mancoba's radar for some time before she applied. "I saw early in my undergraduate [degree] this is the kind of person I'm working toward being," she said, describing how the scholarship's core values of education, entrepreneurship, leadership and reconciliation, resonated with her.
Thus far, McDougall's academic interests have centred around development journalism. With the scholarship, she will pursue a part-time Master's in Sustainable Development at the University of Stellenbosch next year, whilst working as a journalist.
She believes her interest in practicing more in-depth, specialised journalism stood her in good stead for the scholarship. "There are big media problems at the moment -- in the way things are reported and covered in the mainstream media," said McDougall, citing labour and education as examples of areas where analysis is often deficient.
For the long-term, McDougall projects she will spend 10 years working as a journalist with the aim of eventually becoming an editor.
Beyond the bursary, the 29 scholarship recipients will also have the opportunity to attend three week-long workshops where they will interact and network with one another and engage with CEOs, politicians and other influential African leaders.
Mancoba, who will undertake a Master's in politics through the Alan Grey Centre for Leadership Ethics next year, believes the Rhodes culture of service and learning provided the scaffolding she needed to build towards this scholarship.
"I can't imagine another institution where I could really branch out the way I have here," she said, adding that her experience at Rhodes made it the obvious choice for postgraduate studies. "The way I want to do the course really is here."
From l-r: Lihle Mancoba, Michael Glover, Vice-Chancellor, Dr Saleem Badat and Abigail McDougall.
Photo by John Gillam
By Hailey Gaunt
Source: