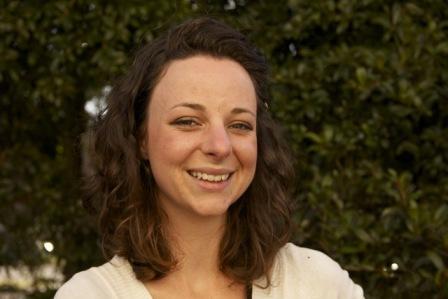 Rhodes > Latest News > 2013
Prestigious travel bursary for postgrad student
Date Released:
Fri, 28 September 2012 09:59 +0200
Amy Richardson a hardworking Master's student has been awarded Abe Bailey Travel Bursary, a three-week tour of the United Kingdom, all expenses paid. The bursary selects a single candidate from 16 South African Universities for the sole purpose of giving them a unique cultural and international experience.
The purpose of the bursary is to cultivate future leaders through travel, giving them the chance to experience British culture and history, while also fostering unity and understanding amongst South Africans of various cultural and linguistic backgrounds.
"It's an interesting thing to give us money for travel -- it's not like giving someone money for books," says Richardson, still marvelling at this opportunity for pure, unabashed edification. Other than a five-day holiday to England with her family, Richardson tells me she has never travelled overseas.
It all just seems a little too good to be true, though -- three weeks of travelling with peers. But of course those selected are amongst South Africa's top scholars and budding leaders -- not just successful but socially engaged.
Having completed a BA (Hons) in English Language and Linguistics (receiving a distinction) Richardson has carried on to do a Master's in the same subject, looking at access to literacy and "the mismatch between frames of reference for people from different backgrounds," as she explains. "I'm really interested in people, how things work and trying to make things better," she says.
The prospect of this adventure is still somewhat overwhelming for Richardson, who has funded her own studies from the beginning, having worked the year following high school to save for university. "Mostly it will just be awesome to travel. I don't know how I would have funded that myself," she tells me.
Far from a pleasure cruise for twenty-somethings, the bursary is strategic not only about who it chooses, but also what it aims to do. A careful itinerary has been plotted for optimal exposure to important historical sites and cultural experiences.
Following an orientation in Cape Town, the group flies to London, their primary base for the trip. Here, they'll watch a theatre performance every evening, visit landmarks like Westminster Abbey and other staple sites of British culture like Lords Cricket Stadium.
Trips to Bath, Oxford, Cambridge and Stonehenge are also on the itinerary, before the group travels to Edinburgh, Scotland. While on the tour, each recipient will give a presentation on topics of special interest, ranging from politics and education to development and economics.
For earnest students like Richardson, this chance is unprecedented. "It's nice because we've been given an opportunity to travel. I think if I were given money I'd feel like I have to put it away to pay for my rent," she laughs, though doubtless there's some truth in the statement.
One needn't search for merit in this opportunity though; as Richardson herself points out, travel gives you a kind of education and experience you can't get from books.
Photo and story by Hailey Gaunt
Source: