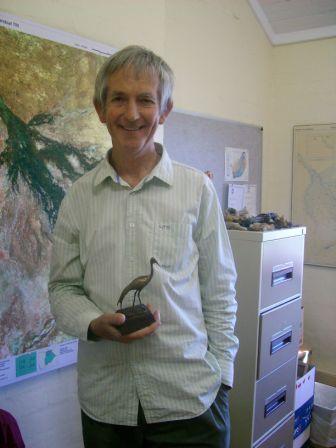 Rhodes > Latest News > 2013
Prof Ellery receives the 2012 Mondi National Wetland Award
Date Released:
Tue, 20 November 2012 10:59 +0200
The South African Wetland Society presented the 2012 Mondi National Wetland Award to Professor Fred Ellery in the category of "Science and research" at the annual Wetland Indaba held in Limpopo Province recently.
Prof Ellery's recognition in the field of wetland science stems from a longstanding interest in these ecosystems, both in respect of why they exist and how they work, and also in respect of the goods and services they provide of benefit to humans.
He has devoted a considerable amount of his time and effort to research in this field, with well over sixty refereed publications in both local and international journals. Furthermore, he has worked and continues to work with postgraduate students at masters and doctoral level, with almost 30 having graduated with higher degrees at this level of scholarship.
Prof Ellery is internationally recognized, having been awarded Lifelong Membership of the International Mire Conservation Group and frequently acting as a reviewer. One of the most notable things about Prof Ellery is his open enthusiasm about his work in particular, and wetlands in general, and admits that "there is nothing that I'd rather do than be in a wetland contemplating its existence, structure and function".
Caption: Professor Fred Ellery
By Megan Kelly
Source: