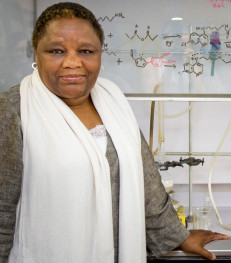 Rhodes > Latest News > 2013
Prof Nyokong receives NRF Lifetime Achiever Award
Date Released:
Wed, 28 August 2013 13:59 +0200
The National Research Foundation (NRF) has awarded Rhodes University's Distinguished Professor Tebello Nyokong the Lifetime Achiever Award at the NRF ceremony held last night (27 August) in Port Elizabeth.
The Lifetime Achiever award honours a deserving South African individual who is considered to have made outstanding or extraordinary contribution(s) to the development of science in and for South Africa over an extended period of time. These contributions must be of international standard and impact.
"If anyone has had the privilege of having known and worked with Prof Nyokong, as I have, one will know that she is a passionate and tireless researcher and mentor. Her peers view her as a champion and leader in the field of research," said NRF CEO, Dr Albert van Jaarsveld.
"In all these years of her involvement in research, academia and science she has been, and remains, one of the brightest jewels that this continent has produced," said Dr Van Jaarsveld.
"We are privileged to have an academic and scientist of Prof Nyokong's stature in our National System of Innovation. She is an exceptional role model and her outstanding work in training the next generation of chemists, especially women chemists, contributes to ensuring that our country remains at the cutting edge of scientific development," said the Minister of Science and Technology, Derek Hanekom.
"The many accolades that she has received are testimony to the fact that she is a world-class scientist, with whom we are proud to be associated," he added.
"What really pleases me about this award, is that, like an NRF A-rating, it spells out that you are a world class researcher, which is extremely important for securing funding in these funding-strapped times," said Prof Nyokong.
Her research output is amongst the highest of any individual academic in South Africa. In 2012 she published 51 articles, all of them internationally peer-reviewed. It's an extraordinary achievement.
Her research includes making significant strides towards the effective treatment of cancer through photodynamic therapy, which is intended as an alternative to chemotherapy.
In the 20 years that she has been at Rhodes, she has supervised 75 MSc, PhD and Postdoctoral students. Prof Nyokong has also been extensively involved in assisting staff and students from less advantaged universities. "I want them to be NRF-rated and I want to see a lot of research activity. That's what knowledge production is about," she said.
"Professor Nyokong exudes passion for science – doing science, teaching science, promoting science, raising finance for science, applying science, and contributing to national and international policy and strategy to foster and grow scientific research in developing countries," said Dr Peter Clayton, Deputy Vice-Chancellor of Research & Development at Rhodes University.
Her international reputation has also contributed to enhancing the reputation of South African and African science. She has undertaken formal international collaborations with counterparts in France, Russia, China, UK, Belgium, Japan, Germany and Chile.
Professor Tebello Nyokongis currently a Distinguished Professor at Rhodes University. She holds the DST/NRF South African Research Chair Initiative (SARChI) Chair in Medicinal Chemistry and Nanotechnology, as well as Director of the DST-Mintek Nanotechnology Innovation Centre focusing onsensors.
Photo by Sophie Smith
Source: