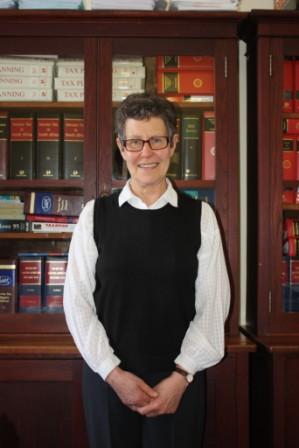 Rhodes > Latest News > 2013
Prof Stack lauded for enhancement of research in taxation
Date Released:
Thu, 11 October 2012 09:59 +0200
Rhodes Accounting Department Professor Lilla Stack, was awarded a 'Lifetime Service Award for the enhancement of research in taxation and empowering of tax researchers and academia' in South Africa at a South African Tax Educators Association (SATEA) workshop recently.
Prof Stack was recognised for her passion and dedication to opening up an exchange between tax academics at universities across South Africa.
"It was a great surprise to receive the award and I was very moved as I did it all pro bono. In helping my fellow academics, I learned as much as I taught, so I hope that it has been as rewarding for the participants as it has been for me."
"I believe that it's the first time in the world that tax academics have co-operated to the extent that we do. It simply started when the universities identified a need, acknowledging that all the institutions share the same needs. The wonderful spinoff is that we have a lot of young academics who are now able to examine theses, supervise, evaluate research proposals and write and review journal articles," she said.
A Chartered Accountant, Prof Lilla spent a total of 18 years at the University of South Africa (Unisa), progressing to the post of Registrar of Finance and Operations before taking early retirement in 1998, after which she joined Rhodes as a professor.
Her involvement with SATEA started in November 2009, when she teamed up with tax academics from Unisa and Pretoria University to improve research capacity. This took the form of a tax academics workshop that provided training exercises and where academics where invited to talk about their research.
After being invited by other universities to present more workshops, by the following year, the association had grown to include all the universities in South Africa, except two who don't offer postgraduate accounting.
"SATEA has created a mutually beneficial forum for tax academics. We don't compete with each other at all, as our aim is to enhance the research capacity of all tax academics through training workshops," says Prof Stack.
She is proud to say that SATEA, which is in the process being registered as a non-profit organisation, has developed to the stage that the South African Revenue Service (SARS), the National Treasury and other institutions are planning to channel their research needs through the association, effectively feeding research to the various institutes.
"Prof Stack's contributions to the department are too numerous to mention," says Accounting HOD Mr Hugh Harnett. "If I were to single out a few of her many achievements, it would certainly be the Diploma in Taxation and the MComm (Taxation) programmes she initiated. Currently the department has 14 Dip Tax students and upwards of 40 students enrolled in the MCom (Taxation) programme".
"Without her extensive taxation knowledge and scholarship, these programmes would not be in existence. The award received from SATEA, only serves to highlight the selflessness with which Prof Stack shares her expertise within the broader community of taxation academics in South Africa," added Mr Harnett.
He emphasised how SATEA affords academics the unique opportunity to collaborate with other universities and be exposed to a very broad range of ideas, methodologies and teaching techniques.
"By extension students greatly benefit by their lecturers' contact with peers throughout the country." He said that the project's success should inspire other academics in other disciplines to form similar collaborations. "If ever it was appropriate to say 'a rising tide raises all ships' this would be it."
Prof Stack is one of the founding members of the SATEA, which was launched at the University of Pretoria in June this year.
Photo and story by Anna-Karien Otto
Source: