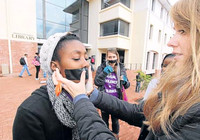 Rhodes > Latest News > 2013
Rape protest: survivors speak out
Date Released:
Mon, 22 April 2013 09:50 +0200
RHODES University's powerful silent protest campaign is helping rape survivors deal with the trauma of being sexually violated.
RUSilent organiser Larissa Klazinga yesterday said she had been approached by four women within the first couple of hours of the day-long protest who wanted to talk about their rape ordeal for the first time.
"We have only just started and already four people have come forward and said they have been raped," Klazinga said.
"We are helping them to take proper steps to deal with what they have been through."
A team of specially trained counsellors were on call to help talk to the survivors, who revealed what they had been through for the first time during the trauma of their rape.
From humble beginnings seven years ago when 80 Grahamstown students first duct-taped their mouths closed in solidarity with rape survivors, the campaign has grown to an event of 1500 protestors at Rhodes, while similar numbers gathered at other venues in South Africa.
As many as a 1000 of the protestors – out of a campus of 7000 students – spent 12 hours yesterday going about their business with their mouths taped firmly shut.
RUSilent organiser Michelle Solomon – who is a rape survivor herself – said tears were shed early yesterday morning when all 1500 protesters gathered at a hall for a campus march.
Caption: BREAKING THE SILENCE: Rhodes University students duct-taped their mouths closed yesterday in a powerful protest aimed at highlighting rampant rape
Picture and Article by: DAVID MACGREGOR
Source: Daily Dispatch
Source: