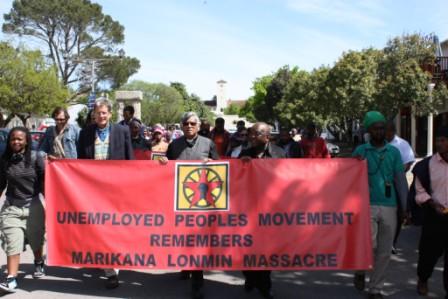 Rhodes > Latest News > 2013
Re-tracing Biko's last steps in Grahamstown
Date Released:
Tue, 2 October 2012 10:59 +0200
Commemorating the 25th anniversary of Steven Bantu Biko's death in 1977, the Rhodes University Political Studies Department and Grahamstown's Unemployed People's Movement (UPM) gathered at Drostdy Arch to re-trace his steps when he walked out of a National Union of South African Students (NUSAS) conference held at Rhodes in 1968.
Biko's connection to South African Students' Organisation (SASO), the NUSAS and Rhodes University is all tied up in a single day he spent in Grahamstown in 1968.
Former SASO activist, Bishop Ruben Phillip recalls how at the NUSAS meeting it was decided that, according to the Act, the black delegates would not be allowed to stay on campus overnight. Biko naturally contested this decision, but did not receive any support from the white students, so he and his group walked out of the meeting, walking to the township on foot and ending up at St Phillip's Church.
The group congregated at St Phillip's Church where the Dean of the Cathedral of St Michael and St George, Rev Andrew Hunter, opened with a prayer, describing St Phillip's as "a place of pilgrimage, struggle and strife".
The first speaker was Ms Pauline Wynter, a radical ecologist and activist who currently volunteers at the Steve Biko Institute (SBI) in Salvador, the capital city of Bahia. The SBI offers an after-school enrichment programme, helping learners to gain entrance to universities, which they are obliged to do under affirmative action.
Ms Wynter spoke eloquently about Biko's legacy around the world, emphasising the link to the Rhodes student union building re-named after him in 2008.
"I am encouraged by the work and writing of Biko to help poor black people in Bahia," she said. "I am here to thank you for keeping his dream alive, not just for the unemployed but for minorities across the world."
Mr Richard Pithouse, Rhodes Politics lecturer and contemporary struggles activist, linked Biko's murder under the hands of the apartheid police to the death of the striking Marikana miners and the "oppressive face of the state".
He likened Biko's legacy to a stone being thrown into a pond, creating a ripple effect. "His commitment to develop a challenge to racism and apartheid was magnificent- it's not history, it's alive."
Aubrey Mokoape (former SASO and Black Conciousness Party activist) echoed Biko's words when he reminded the gathering: "It's not about the pigmentation of your skin but a system that promotes political servitude, it's not about blacks and whites but about people."
Bishop Phillip, the Anglican Dean of the Province the Bishop of Natal, who later became the President of Black Conciousness Party, knew Biko when they attended St Francis College in Natal.
"This day brings sadness but it is also a day of hope and optimism, as Biko continues to give us hope that the system can be challenged," he said. "In his own words: 'It is better to die for an idea that will live, than to live for an idea that will die.'"
He recalls how he had the privilege of knowing Bkio as a 15-year-old he joined the ANC after which he was arrested at Orlando Stadium, becoming the youngest political prisoner at the time.
Later, while Bishop Phillip was attending college as a second year student, Biko was in first year and "politically, he was green but he had such a political nose, he immersed himself".
"When he was elected to attend the NUSAS conference, he came back saying: 'You were right all along, these white folks won't side with us.' We continued our discourse, as the black consciousness movement has always been a work in progress. You can never say I am fully conscious- you must keep confronting the system, yourself, your identity."
Story and picture by Anna-Karien Otto
Source: