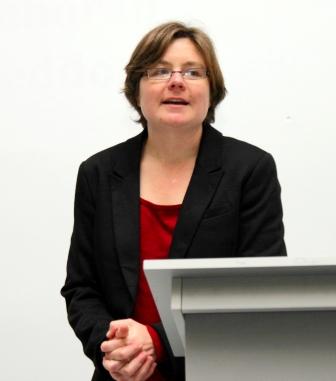 Rhodes > Latest News > 2013
Reflections on teaching and literature
Date Released:
Tue, 6 November 2012 08:59 +0200
"I am in the privileged position of being paid for what I love doing," says Dr Deborah Seddon, when she presented a compelling lecture to mark her 2011 Vice-Chancellor's Distinguished Teaching Award.
She discussed what she feels most passionate about: literature and life. She says that as a teacher she wants to create a space where the students can freely engage with the text, relating it to their own lives.
"As a teacher I want to get the students to do 'quite half the labour' as Henry James would say. The more I try to do that for them, providing them with a complete, 'intelligent,' reading the more it shuts down their own experience."
One of the challenges is that often literary texts approach subjects that are difficult to deal with. With slavery, racism and colonialism among the themes, such texts are often met with resistance.
She holds firm that: "The first step is to create an honesty of feeling, after which you can find the academic register, the language to describe it."
Another challenge is not to inadvertently dictate what students should like or not like. "Our task as English teachers is neither to intimidate nor to seduce students by the 'great books' but to develop critical thinking. It's a danger to be a compelling teacher, to clone, to turn out versions of ourselves."
The title of her lecture, "At Play in the House of Fiction: Some Thoughts on Teaching and Literature in South Africa" refers to what is now a permanent wooden sign above the entrance to the English department that reads: "You are now entering the house of fiction".
She considers the sign, which was made and put up by post-grad students, to be an example of her students' "wit and agency" and the "wonderful unpredictable ways in which students reclaim what we teach them".
The sign, she explains, is an extension of the metaphor used by Henry James in the preface to his novel The Portrait of a Lady in which he describes fiction as "an enormous house with millions of windows, and in each stands a writer, presenting us with his/her vision, from different perspectives".
"Something strange and unpredictable happens to us when we read. The claim is that if you read a great book it can change your life, but that is quite a claim." Instead, she insists on the active role of the reader in creating a work of art: "Literature only happens to us when we let it, when we happen to literature."
Referring to the online TED talks of creativity expert Sir Ken Robinson, she talks about the unpredictability of the future and the sad fact that "we don't grow into creativity, we grow out of it" as we develop and are educated.
This is underscored by the experiences that can occur beyond the text, such as when the Honours students embark on an annual field trip to Cradock to visit Olive Schreiner's grave. As the group (some of whom have never been to the Karoo before) climbs up Buffelskop they undergo what Dr Seddon calls an "embodied experience".
This underwrites her philosophy of "teaching from here" – finding ways to highlight how all literature, not just South African texts, mean and resonate differently in South Africa.
In talking about "the seriousness of play" she refers to the ideas of the psychologist D.W. Winnicott, who says: "Cultural experience begins with creative living, which is manifested through play."
Story By Anna-Karien Otto
Photo By Ross Shackleton
Source: