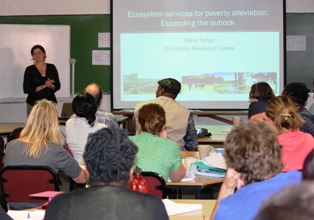 Rhodes > Latest News > 2013
Resources used to increase human well-being is unsustainable
Date Released:
Tue, 12 February 2013 13:59 +0200
"In the last few decades we have seen rapid social and ecological change. More than 24% of the earth's terrestrial surface is covered with croplands – more than any arable time in history. This presents major challenges such as how to address the increasing disparities in human well-being that prevail, while also improving the capacity of social-ecological systems to provide the ecosystem services that underpin important components of human well-being."
This according to Dr Reinette (Oonsie) Biggs of the Stockholm Resilience Centre, Stockholm University, Sweden, who presented a paper at Rhodes University recently as part of a team of representatives from the Southern African Program on Ecosystem Change and Society (SAPECS).
"The current trajectory of resources being used to increase human well-being is unsustainable in light of the projected population growth. This poses serious questions about our future and how to work towards increased ecosystem and societal wellbeing," said Dr Biggs.
SAPECS aims to develop an international, transdisciplinary research programme that produces empirical, innovative and practical theory and tools that improves understanding of regional social-ecological systems, and mainstreaming this knowledge into policy and practice. It thus draws and builds on a number of on-going projects in the Southern African region, and is one of several regional case studies around the world linked to the international ICSU Program on Ecosystem Change and Society (PECS).
Subsequent to the findings of the Millennium Ecosystem Assessment that was published in 2005 and introduced a new conceptual framework for analysing social-ecological systems, SAPECS aims to fill some of the knowledge gaps of the links between ecosystem services and human wellbeing identified in the same assessment.
Following a recommendation by the International Council for Science (ICSU), in partnership with the United Nations Educational Scientific and Cultural Organisation (UNESCO), to establish a new 10 year research programme with a mission to foster coordinated research to understand the dynamic relationship between humans and ecosystems, the new interdisciplinary Program on Ecosystems Change and Society (PECS) began in June 2009. Extending its reach to southern African shores, the organisation founded SAPECS to address social ecological challenges on the continent.
Presenting her research into investigating the links between poverty and ecosystem services at the provincial scale, Maike Hamann, a PhD student with the Stockholm Resilience Centre at Stockholm University, Sweden explained how she is mapping and analysing patterns of interactions between ecosystem services and human wellbeing in the province.
Using data collected through the 2011 national census pertaining to resource use, Hamann said her research is shedding light on the dynamics surrounding resource use in the province. "It is amazing because different regions have different proportions of each resource and service. Mapping this can be helpful for looking at what resources are available, the socio-economic dynamics behind this and also the implications for well-being," she said.
The second project, as outlined by Vanessa Masterson, also a PhD student with the Stockholm Resilience Centre, Stockholm University, focuses on the village scale and explores how sense of place affects social-ecological dynamics and stewardship of ecosystem services. Her research considers poverty alleviation through building on the natural relationships individuals have with their local ecosystems. "I consider a sense of place as a component of well-being. People's connection to land matters in dealing with change and developing into the future," she said.
A third project as outlined by Dr Marja Spierenburg of VU University Amsterdam in the Netherlands focuses on the impacts on farm workers of the shift to game farming in parts of the Eastern Cape.
Explaining the recent massive shift within the commercial agricultural sector from crop and livestock farming to game-ranging, Dr Spierenburg said there are now as many as 9000 farms occupying 14% of South Africa's land.
These conversions started in the 1970s and escalated in the 1990s, she said, leaving thousands of farm workers without homes and employment as land ownership became increasingly centralised into the hands of a white minority.
"This perpetuates the pattern of racially skewed access to land," she said, adding that while private wildlife production is often portrayed as a win for nature conservation and local development, in reality this is far from the case as hundreds of individuals lose their jobs as wildlife is not labour intensive.
Caption: Maria Tengo presents her research findings as part of SAPECS presentation on social-ecological and human wellbeing.
Story and photo by Sarah-Jane Bradfield
Source: