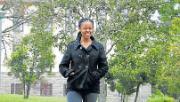 Rhodes > Latest News > 2013
Rhodes achiever bags top awards
Date Released:
Thu, 25 October 2012 12:00 +0200
AYOUNG Mdantsane woman – who battled to fund her fourth year of study at Rhodes University – has overcome many obstacles on her way to landing two top achievements.
Lihle Mancoba, 22, has won a prestigious Mandela Rhodes scholarship and was chosen one of the Investec Rhodes top 100 students for leadership.
Despite having no financial backing after completing a BSc degree in human kinetics and ergonomics and Organisational Psychology at Rhodes last year, Mancoba was determined to continue her studies.
She had funded her undergraduate degree with help from her cashstrapped parents and a loan from the National Student Financial Aid Scheme (NSFAS) which, at the time did not fund post-graduate study.
With a partial loan from Rhodes University post-graduate financial aid office of just R13 000 – and notwithstanding the uncertainty of how she would acquire the balance of R50 000 to finance her studies – Mancoba embarked on a post-graduate diploma in International Studies.
While she contributed to her small income from sub-wardening and tutoring to help pay off the balance, she knew it would not be enough to cover her tuition fees. "All I knew was that I had to stay at school and continue with my work. I was hopeful something would come up," said Mancoba. And with the balance of her fees due in May, she thought she might have to pack up and head home as her parents simply did not have the funds to help out.
Mancoba turned to Dingemans House warden Tracey Chambers. The university and Chambers sourced R25 000 funding from Xerox in Port Elizabeth and that was the turning point for Mancoba.
The Rhodes University Post-graduate financial aid office also agreed to increase her loan to finance the outstanding amount. "It was a stressful and crazy time – but we managed," said Mancoba.
She said Rhodes provided the kind of environment that allowed for growth in academic learning, community engagement, work ethic and leadership. "I am very grateful and I hope I will contribute something back someday," said Mancoba. But, by all accounts, Mancoba already has. Her passion for social development led her to the non-profit organisation Pan African Youth Dialogue and she now chairs the Young Women's Dialogue section. The organisation's aims are tied up in the "rebirth, revival and renewal of Africa" – and education plays a central role in its function.
Rhodes University Alumni Relations and Fundraising manager Qondakele Sompondo said Mancoba was an example to others. "She turned things around from a place of hopelessness where she was about to lose her place at university to where she achieved so well that she won a Mandela Rhodes Scholarship and was an Investec Rhodes top 100 student."
Mancoba said much of the thanks for her success had to go to her parents, Nokuwela and Zacharia. "They emphasised the importance of education because they never enjoyed the privilege of a good education and they understand its value," she said.
Her mother is unemployed and her father a self-employed welder in Mdantsane.
Mancoba attended West Bank High School, which she says played a significant role in what she has achieved. The Mandela Rhodes Scholarship provides full funding for up to two years of post-graduate study. She is one of just 29 students in Africa to be awarded the scholarship for next year.
Caption: ON TOP OF THE WORLD: Rhodes University graduate Lihle Mancoba, 22, of Mdantsane, has won a prestigious Mandela Rhodes scholarship and has been chosen as one of the top 100 Investec Rhodes students for leadership
Story and picture by Adrienne Carlisle
Source: Daily Dispatch
Source: