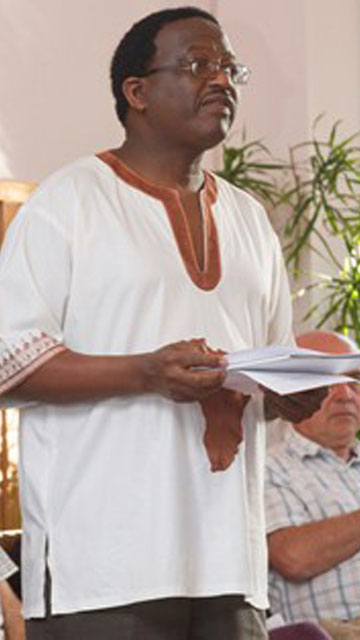 Rhodes > Latest News > 2013
Rhodes' book launch sets a new record
Date Released:
Wed, 30 October 2013 12:15 +0200
A total of 20 books by Rhodes-affiliated academics were launched recently in the second book launch of the year, setting a new record for the number of staff-related publications at the university.
According to Dr Sizwe Mabizela, Deputy Vice-Chancellor: Academic and Student Affairs, who welcomed academics, students and Grahamstonians to the prestigious event, "Books can be enchanting and can launch us onto flights of wonder. There is something magical about writing a book, and the launch of a new book is an inspirational and special event," he said, adding that the daily pressures on academics makes the launch of a book even more special.
"Taking into account the demands on academics in the form of teaching, administration, community engagement and research, the publication of a book by a colleague is an event to be celebrated," he said.
According to Professor Dan Wylie, senior lecturer in the English department at Rhodes University, Collected Poems – Don Maclennan, which Wylie edited, represents one of his most important pieces of work to date.
Maclennan (1929-2009) was one of South Africa's best-loved teachers and the pre-eminent poet of his generation. Though he matured as a poet only in his fifties, he produced some twenty volumes before his death.
"I'm more proud of this book than of anything I've ever written. Don was closer to me than my own father," Prof Wylie said. He described the book as "lucid, humane and approachable" and explained that it serves as a companion to a previous book launched last year, 'No other world' – essays on the life-work of Don Maclennan, which Prof Wylie co-edited with Craig MacKenzie.
"Maclennan writes things that touch all of us. This is a book to keep by your bedside to dip into from time to time," said Prof Wylie.
Dr Patricia Henderson, senior lecturer in Anthropology at Rhodes, speaking to her book, A Kinship of Bones: Aids, Intimacy and Care in Rural KwaZulu-Natal said she first became engaged in the field of researching Aids and its effects on people and their "life-worlds" through having been a political activist in the 1970s and '80s.
"The prevalence of the disease seemed a profound challenge to our attempts to issue into being a new democratic state. I wanted to record the experiences of people living with and alongside Aids because very few detailed ethnographic studies had paid their respects to people dealing directly with the illness," she explained.
"The book ultimately shows, however, the local resources and generosities people brought to bear on navigating social lives and creating forms of sociality in the face of death and mourning," said Dr Henderson.
Professors Fred Hendricks, Dean of Humanities at Rhodes University and Prof Kirk Helliker, head of department of Sociology at Rhodes University's The Promise of Land: Undoing a Century of Dispossession in South Africa, also launched at the event, forms part of a broader SANPAD research project on rural development in South Africa.
Prof Lungisile Ntsebeza of University of Cape Town is the third contributor to the book, which Prof Hendricks described as a "contribution towards moving beyond the current impasse on issues of land and land reform and engaging with the people concerned".
Gallery click here
Source:Communications