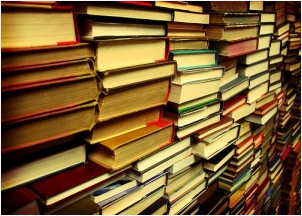 Rhodes > Latest News > 2013
Rhodes celebrates published academics
Date Released:
Thu, 11 October 2012 14:59 +0200
Recently-published Rhodes University academics were honoured at a cocktail evening on Tuesday 9 October in acknowledgement of the array of new books.
The event, held in the senior common room, showcased 16 books - all of which were either written or edited by Rhodes academic staff.
The published subject matter ranged from management and science to history and poetry, however most authors emerged from the Humanities Faculty.
"The most important thing to take away from this is a book is a mark of scholarship especially in the faculty of Humanities," said Professor Fred Hendricks, the Dean of Humanities.
"This event is just to showcase what Rhodes academics are doing and what they have done and it's a very impressive display," he added.
The Vice-Chancellor Dr Saleem Badat opened the evening with a brief speech congratulating the authors and emphasising the importance of celebrating and acknowledging them for their personal achievements as well as the reflection of their work on the University.
This was followed by a brief description of the books from the respective authors as well as accounts of the work that went into their writing, compiling, editing, and publication.
The evening ended with a lucky draw in which guests stood the chance to win the showcased works.
Professor Dan Wylie, author of Sailor: Poems for my Father expressed his gratitude to the University for their acknowledgement: "I think it's great that the university is alerting people to the fact that books are our lives and our way of reaching out to the world and trying to engage with the real life issues beyond the ivory tower," he said.
"A book is quite an achievement and accomplishment and it is fantastic to be able to celebrate these books this evening in a way that hopefully inspires other people to also aim for something like this," said Dr Badat.
Source: The Oppidan Press
Story by Alexandra Maggs
Source: