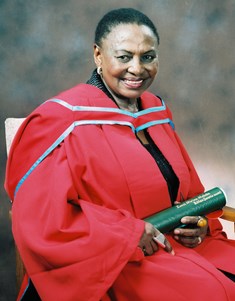 Rhodes > Latest News > 2013
Rhodes honours "Mama Africa"
Date Released:
Mon, 21 October 2013 11:59 +0200
Rhodes University named Kimberley Hall East, Miriam Makeba (affectionately known as Mama Africa) Hall at the Naming Ceremony which took place last week on 15 October 2013.
In 2004, the late Mama Africa was awarded an Honorary Doctorate by Rhodes University and graced the community with a concert showcasing her beautiful voice and unforgettable melodies.
Her musical genius, love for her people and country which led to her being dubbed Mama Africa.
Kimberley Dining Hall, with its distinctive pagoda-style structure, has been a feature of Rhodes for over 25 years.
Shared amongst three administratively separate halls – Kimberley East, West and Desmond Tutu Hall (previously Hilltop Hall), the sense of the dining hall's identity had become somewhat diluted. This led to Kimberley East deciding to pursue the process of creating an identity for itself.
The four residences which make up Miriam Makeba Hall all have male names, and the students felt that their choice of Makeba would address this imbalance.
In presenting a list of possible names for new residences, Rhodes makes an effort to select names that will emphasise the University's African identity.
All new names must be according with the Vision and Mission of Rhodes University; the University's commitment to the development of shared values embracing basic human and civil rights; acknowledgement of and sensitivity to the problems created by apartheid; rejection of unfair discrimination and support for appropriate corrective measures to redress past imbalances.
Rhodes University is unusual in that most of its student body live in the university residences. Residence life therefore plays an important role in their experience of university culture, introducing many students to the tradition of student leadership through the house committee and sub-warden roles.
Each residence and hall takes pride in its values, ethos and spirit, and the name it chooses needs to reflect these all-important qualities. For this reason, the naming of a new residence or hall is never rushed. Students play a vital role in the process.
While Rhodes does provide a list of possible names, the final selection is up to the residents, and is not centrally prescribed.
The students of Kimberley Hall East stated in their motivation proposal: "Zenzile Miriam Makeba was an upstanding woman in our society, and her words represent much of what we would like to build into the culture of Kimberley Hall East: "I kept my culture, I kept the music of my people, and through my music I became this voice and image of Africa and the people."
The motivation continues on to say: "these words are exactly what we want out of Kimberley Hall; leaders who remain true to themselves and dedicate themselves to the country and its people…leaders who are not afraid to take the path less trod because they know they are doing the right thing and are willing to sacrifice to achieve a common good for the people they lead."
Hall Warden Mr Michael Naidoo delivered an opening speech and spoke about leadership, and the transformation which Rhodes has begun to see being ushered in through the naming of its newer residences.
He said, in Makeba's own words: "All I did was to tell the people who wanted to know where I come from how we live in South Africa. I just told the truth. And if my truth became political, I can't do anything about that."
The gleaming plaque adorning the outside wall of the Dining Hall was unveiled by the Hall Head Student.
The Naming Ceremony was attended by university staff members and students, and was deliberately planned to coincide with the Hall's Leavers' Dinner for 2013. It was an elegant and sparkling affair, with a giant poster of Mama Africa herself, Miriam Makeba, beaming over the full tables of students.
By Jeannie McKeown
Source:Commmunications Division