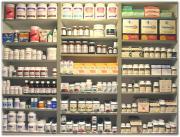 Rhodes > Latest News > 2013
Rhodes hosts Clinical Pharmacy Conference
Date Released:
Mon, 25 June 2012 16:01 +0200
Rhodes University is hosting the 2nd South Africa Clinical Pharmacy Conference at the Barratt Complex from 25-27 June 2012. The three-day conference of the South African Society of Clinical Pharmacy (SASOCP) is pivotal to health management of South Africans.
It has been specifically designed to deliver information and also to allow all attendees a chance to voice opinion, present experience and exposure to contentious issues in the field through interactive workshops, audience interactive panel discussion and the usual podium and poster presentations.
The conference will be addressing contentious issues such as surrounding medical management of patients with HIV TB - especially the problems that clinicians experience. It will also have panel discussions around the proposed National Health Insurance - something the country needs to come to grips with.
Speakers at the conference will include national and international speakers who are in clinical practice. They are Prof Roy Parish from the University of Louisiana at Monroe (ULM), Prof Joe Caperna who is a Clinical Professor of Medicine at the University of California, Prof Adriano Duse, Head: Clinical Microbiology and Infectious Diseases and the Division of Hospital Epidemiology and Infection Control of the NHLS & Wits School of Pathology, Prof Andrew Parrish from Dept Clinical Medicine East London Hospital Complex (University of Walter Sisulu) and Prof Gary Maartens (from UCT Clinical Pharmacology).
International HIV Specialist speakers will be Profs Joe Caperna, Craig Ballard and Brad Colewell
The conference aims to create a platform for dialogue and education about clinical pharmacy practice in South Africa, to place clinical pharmacy practice on the agenda in all domains of pharmacy in Southern Africa and to advocate that clinical pharmacy is integrated into legislation, policy and practice.
SASOCP was launched in 2011 to promote the development of the clinical pharmacist practitioner in South Africa. Both the role and the cost effective impact within the health profession has been proven internationally resulting in a need to align with international standards of practice for clinical pharmacists and pharmacy.
The Deputy Vice-Chancellor, Dr Peter Clayton opened the conference this morning. Makana Municipality delegate will welcome the conference delegates at the evening functions today.
2nd South Africa Clinical Pharmacy Conference programme
Source: