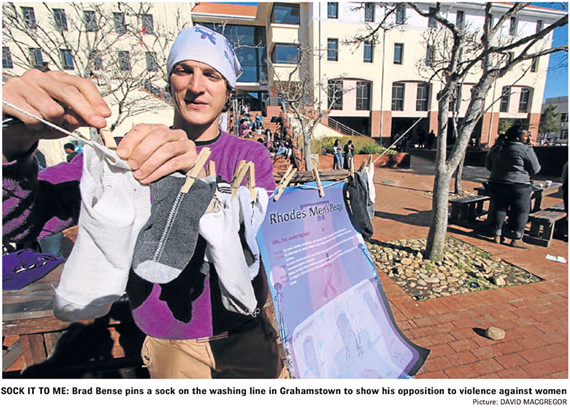 Rhodes > Latest News > 2013
Rhodes men take stand for women
Date Released:
Mon, 6 August 2012 14:59 +0200
GENDER violence came under the spotlight in Grahamstown yesterday when Rhodes University men stepped up to voice their disapproval. They signed pledges and pegged old mismatched socks on a specially erected campus washing line. The Rhodes Men Step-up was held in support of National Women's Week which starts on Monday.
An organiser, Adrian Ciesielski, said although there was nothing particularly significant about pegging the old socks on the washing line, they hoped the gesture would become an annual visual representation of men stepping up and making a small individual contribution to highlight a big problem. "We all have a few mismatched socks which seem useless and insignificant but sometimes even small seemingly pointless things can change the world," a statement from the student services office said.
"Behind each 'useless' sock is one man stepping up to take a stand against gender-based violence, even small things add up and create change - the laundry line and the socks are a metaphor for that." Although several men signed a pledge to never commit, condone or remain silent about men's violence against women many admitted they did not understand the significance of hanging their mismatched socks on the washing line.
Pledge signatories also agreed to challenge their peers whenever they made statements or jokes that demeaned or undermined women and to never coerce anyone into having sex or pressurise them into any kind of unwanted physical contact. Hastily whipping off both his socks and pegging them on the line, Student Representative Council (SRC) media coordinator Brad Bense said it was hoped that the Purple Thursday step up would become an annual event before National Women's Week.
"It is not a protest," he explained. "We are doing this in solidarity of women." Although Ciesielski said the signed pledges would be framed and placed in the dean of students office for all to see, he however did not say what would happen to the old mismatched socks. "If we can show that men count, that they too need to step up against abuse, then hopefully the atmosphere surrounding this topic will not be as sour as it is in society currently."
Student Shaun Gordon said he was happy to sign the pledge to show that he was opposed to violence against women. "I am glad that people are making an effort to voice their disapproval of violence against women. "I am very much against it." Pharmacy students Prudence Molepo and Vuyokazi Gosani agreed it was great to see men stepping up and showing they valued women. "It is a very big step to take," Gosani explained.
Deputy dean of students Roger Adams - who signed the petition - said holding the event before National Women's Week was a good idea. "It is a symbolic act to show we care about something that is ravaging our society in a way that will have lasting effects. "It signifies the place of men in the cause of women which is often sidelined for various political and ideological reasons." Several events have been planned on campus to highlight National Women's Week. SOCK IT TO ME: Brad Bense pins a sock on the washing line in Grahamstown to show his opposition to violence against women
Story and Picture: DAVID MACGREGOR
DAILY DISPATCH 03 Aug 2012, Page: 3
Source: