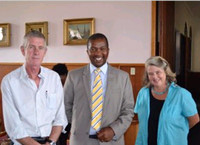 Rhodes > Latest News > 2013
Rhodes researchers grappling with key environmental water challenges
Date Released:
Fri, 1 March 2013 08:59 +0200
Researchers at the Rhodes University Institute for Water Research are conducting a number of studies on environmental water-quality and quantity issues, including water-source testing, identifying the systems that influence water quality, hydrological modelling of water resources, biomonitoring and wastewater treatment.
Institute of Water Research director Professor Denis Hughes opened the institute's open day last month with a discussion on a systems approach to water ser- vices, which includes different components, such as water-ser- vices systems and technological, environmental and social issues, to identify the indicators that can inform researchers about the effects of water and wastewater systems on human health, social well-being and sustainability, as well as environmental health.
"There is a need for a systems approach to identify the causes for concern with regard to water quality and quantity, and the need to do so in a transparent manner. This requires all community stakeholders' inputs to identify the drivers relevant to the causes of water-quality concerns. Potential interventions can then be considered in the context of constraints to effective water management and treatment, followed by the assessment of the effectiveness of the remediation measures."
Possible causes of concern include source waters either not providing reliable yields or providing yields of poor water quality, owing to the contamination of water sources through the breakdown of infrastructure.
The institute studied the impact of water management on environ- mental health and sustainability and the ecological reserve, includ- ing the quantity and quality aspects. The latter is an important component in managing water sustainably to reduce downstream eutrophication, contamination and negative impacts and to improve the sustainability of aquatic environments.
"Consumers and water-service practitioners do not understand the impact of their actions on people in the catchment area below them and how their actions impact on the water quality. "We need to identify the full scope of indicators that we can use to see whether a system is working and where the problems are," he explained.
"Water-quality indicators can also be used to ensure that water treatment works and wastewater treatment works comply with national and international standards of water management, not only at the beginning and end of the system but also during all stages of a system to understand what, where and why things are going wrong and how that affects the reliability of supply," noted Hughes.
The Eastern Cape had endured two years of drought in 2010 and 2011 and is continuously water stressed, partly owing to a lack of knowledge and understanding of water management and treatment in the communities and municipalities, as well as variable rainfall patterns.
Consumer goods giant Unilever sponsors the Unilever Centre for Environmental Water Quality at the Institute for Water Research to ensure that water-supply quality and environmental impacts are researched, monitored and dealt with to reduce the negative impacts on water resources, said Unilever South Africa corporate sustainability manager Louise Duys.
The centre uses a range of water-quality study methods, including water chemistry analyses, ecotoxicology and biomonitoring. The latter uses living organisms in water as indicators to track the contamination levels and quality of water.
Each indicator species is graded according to its sensitivity to different organic and inorganic contaminants, enabling the centre to determine the different contamination levels of water resources by assessing the variety and quantity of organisms in the watercourses, said Unilever Centre for Environmental Water Quality doctoral student Nelson Odume.
"This method also enables us to test whether a watercourse is temporarily exposed to contaminants at any stage, as this will have an effect on the organisms that reside in the water. Based on our knowledge of the habitats, the tolerances of different species and their changes in habits in the presence of contaminants, we can determine, with high accuracy, which contaminants are present or had been temporarily present in the watercourses," he explained.
Odume was conducting tests and verifications for his doctoral thesis on water that exits a wastewater treatment plant to accurately determine the precise effects of different concentrations of treated wastewater on bio- logical organisms in watercourses in the Eastern Cape.
Edited by: Martin Zhuwakinyu


Picture By: Schalk Burger
Caption: Denis Hughes, Thembinkosi Myalato and Tally Palmer
Source: Engineering News
Source: