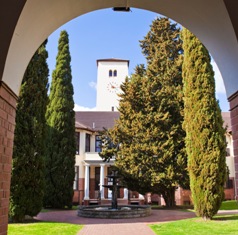 Rhodes > Latest News > 2013
Rhodes sets record for PhDs
Date Released:
Fri, 5 April 2013 09:15 +0200
MORE than 2 000 graduates will receive various degrees from Rhodes University. The ceremony started yesterday and ends tomorrow.
Rhodes University spokesman Zamaxolo Matiwana said 2 288 degrees would be bestowed on students — 1 340 for undergraduates and 948 for postgraduates.
Matiwana said they usually awarded four honorary doctorates, but had decided on two this year — Dr Carol Hofmeyr and musician Vusi Mahlasela — because of the installation of the new chancellor. In 2010, 26% (1 840) of students were postgraduates and the number had increased by 29% to 2 204 last year.
In 2011, Rhodes achieved a new university record of 55 PhDs, an impressive achievement for the smallest university in South Africa. This year Rhodes will graduate 63 PhDs, setting a new record.
Vice-chancellor Dr Saleem Badat said: "We enjoy among the best pass and graduation rates in South Africa. We have among the most highly qualified academic staff and the best research output per academic staff member, and we pursue socially committed and mutually respectful and beneficial engagements with various communities."
Rhodes has reaffirmed its position as a leading postgraduate and research-intensive university with a slight increase from 903 postgraduates in 2012 to 949 in 2013.
Photo by Sophie Smith
Article by: Hendrick Mphande
Source: The Herald
Source: