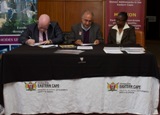 Rhodes > Latest News > 2013
Rhodes signed MoU with Department of Human Settlements
Date Released:
Fri, 17 May 2013 12:59 +0200
Rhodes University will "assist the Department in augmenting its research and strategic thinking capacity and render quality assurance" for research projects that will be undertaken by the Department of Human Settlements.
This follows the signing of the Memorandum of Understanding (MoU) this week (13 May 2013) in Grahamstown by Rhodes and Eastern Cape Department of Human Settlements.
The MoU is intended to formalise the relationship and to co-ordinate efforts to identify research projects and capacity building interventions that wil be of benefit to the parties.
Eastern Cape Department of Human Settlements, Chief Operations Officer, Dr Sjekula Mbanga expressed excitement at the prospect of partnering with Rhodes University.
Dr Mbanga said the Department would take input provided by Rhodes University through this MoU very seriously, committing to implement the research projects and capacity building programmes identified by Rhodes University.
Rhodes University Vice-Chancellor, Dr Saleem Badat welcomed another opportunity for the university involvement in provincial socio-economic initiatives. He emphasised that the purpose of the MoU is to produce visible results for the Department and most importantly for the province.
Dr Badat said in addition to being involved in the Eastern Cape Planning Commission alongside other universities in the Eastern Cape, the university through the Institute for Social and Economic Research (ISER) are contributing towards providing knowledge and information on current pressing policy issues contained in the National Development Plan such as the National Health Insurance and Education policies.
He said the university could also support the Department in providing sustainable human settlements through research.
In 2008, the Eastern Cape Department of Human Settlements established a new Research Directorate. This was a vital innovation given the increasingly complex nature of the housing delivery mandate in the province.
Since its inception, the Research Directorate has been actively involved in building partnerships and collaborations with research institutions in the province to undertake research on key topics of critical importance to the Department.
Through the assistance of the Public Service Accountability Monitor (PSAM), the Research Directorate started engaging with Rhodes in 2012 on the possibility of a strategic research partnership.
Photo Caption: Dr Sijekula Mbanga (Chief Operations Officer ECDoHS), Dr Saleem. Badat (Vice Chancellor Rhodes University) and Ms L. Mqokoyi (Chief Director of the Housing Research and Planning Programme ECDoHS).
Photo by Teigue Blokpoel
Source: