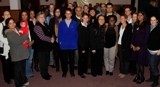 Rhodes > Latest News > 2013
Rhodes staff members honoured for academic achievements
Date Released:
Thu, 20 June 2013 10:30 +0200
Forty-six Rhodes University staff, which included 36 academic staff and 10 support staff comprising seven PhDs, 13 Masters, two honours, four Postgraduate Diplomas in Higher Education, 15 CHERTL assessment qualifications and five other qualifications including Bachelor degrees were acknowledged recently for their academic achievements.
An impressive number of staff members were honoured recently during the annual Alty and Vice-Chancellor Awards, made to University staff in recognition of recently attained academic qualifications.
Alty Awards were made to 16 academic staff and three support staff, and Vice-Chancellor's Awards to four academic staff and six support staff. This year 26 females graduated, representing 56% of the total amount of staff graduating in 2013.
According to Mrs Sarah Fischer, Director of Human Resources as Rhodes University, the impressive number of staff completing qualifications is illustrative of the University's commitment to providing study opportunities to its staff.
This is articulated in the University's Staff Development Policy, which states that "Rhodes University is striving to create an organisational culture where all staff strive for excellence and where development is seen as critical to the achievement thereof."
Mrs Fischer said the University strives to ensure that staff at all levels who are improving their qualifications are acknowledged, and that staff must be supported through providing appropriate opportunities and resources.
These include fee remissions, in-house professional development courses such as those offered by the Centre for Higher Education Research Teaching and Learning and Human Resources, removing barriers to development through the provision of study leave for support staff, academic leave for academic staff and through recognising individuals for engaging in personal development.
The certificate of assessment recognises effort made by staff to grapple with the issues of student learning and how to assess a diverse student body to ensure that students who are graduating meet the standards of Rhodes University.
The Thomas Alty Award is made to staff in celebration of post-graduate qualifications achieved at the Masters and PhD levels; the Vice-Chancellor's Award celebrates the achievement of qualifications below a Masters level, such as Honours, Bachelor degrees and NQF level 1 or Grade 9 qualifications.
Dr Thomas Alty was the Masters of Rhodes University College from 1948 to 1959 and Vice-Chancellor from 1951 to 1963.
By Sarah-Jane Bradfield
Source: