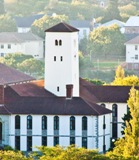 Rhodes > Latest News > 2013
Rhodes statement on the Makana water outages
Date Released:
Wed, 20 March 2013 11:59 +0200
Recent water outages in the Makana municipality area which this week continued unabated, are a major concern to Rhodes University as these are threatening to disrupt the academic life, and students and staff activities.
Water supply to most parts of the campus has been erratic at best, and at worst, some areas such as the Postgraduate Village have gone without water for days at a time.
The constant water outages have also negatively impacted undergraduate residences on the upper campus. Recently the unreliable water supply has begun to have a negative impact on research capacity, particularly in the Sciences and Pharmacy Faculties.
The lack of water constitutes a health and hygiene hazard and a threat to teaching and research activity. It also compromises the University's fire-fighting capacity.
The University is currently providing water in tanks to the residences, academic and administrative areas. This is an enormous task given that there are 3500 students living in residence and some 7000 individuals on campus during the day.
Bottled drinking water is also being distributed to students in residences at meal times.
Needless to say, this has significant cost implications for the University - bottled water has to be purchased, some of which, due to the volumes required, is coming from East London.
Disposable cutlery and crockery has to be used in the Dining Halls. The transport and delivery of water for sanitation purposes is costly and time consuming. Just these costs alone are estimated to be R115, 000 per day.
The supply of water using tankers is at best a short-term solution. The Municipality has failed, despite undertakings made in this regard, to provide a solution to the problem. During these recent water outages, the University has been unable to make contact with the senior officials of the Municipality.
In December 2012, the University wrote a letter to the Minister of Economic Development expressing concern about the water outages and seemingly the inability of the Municipality to implement lasting long-term solutions.
Given the frequency, duration and growing extent of water outages on campus, the University is contemplating building a campus water reservoir to store sufficient portable water to meet campus needs in a case of an extensive and prolonged water outage.
The University estimates that 1.45 million litres of water per day are required to keep campus operating and to maintain research activities. In order to provide capacity for a five day outage, a reservoir of 7.25 million litres will be required. The cost of constructing such a facility is estimated to exceed R65million.
Without such a facility the University will not be able to continue to operate, and like North-West University recently, will have to close its doors until municipal water supply is restored.
The University would like to reassure students and staff that it will do everything humanly possible to ensure that drinking and cleaning water is available at the very least, while continuing to work on the restoration of supply as well as engage with the Municipality with regards to the implementation of a long-term solution.
Source: