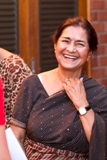 Rhodes > Latest News > 2013
Rhodes' students to honour Amina Cachalia
Date Released:
Thu, 2 May 2013 08:55 +0200
Rhodes University will honour and celebrate the life of the late Amina Cachalia by screening for the first time a documentary based on the book by Vice-Chancellor, Dr Saleem Badat entitled "The Forgotten People", starring Amina Cachalia, on Friday (3 May 2013), for the members of Grahamstown and Rhodes community.
The event will be held in the Eden Grove Red Lecture Complex at 7 pm and is organised by the Rhodes students who are residents of the Amina Cachalia House.
The Forgotten People: Political Banishment under Apartheid answers many questions about banishment and shines a bright and welcome light on a largely hidden and unknown aspect of the South African "brutal history".
It shows how apartheid's political opponents from rural areas were condemned to the living hell of banishment: a weapon used to expel rural opponents to distant and often arid and desolate places for unlimited periods.
The screening will be preceded by an introduction to the documentary by Dr Badat, Amina's daughter, Ms Coco Cachalia and the CEO of Grounded Media who produced the documentary.
After the screening copies of Amina Cachalia's autobiography entitled When Hope and History Rhyme, The Forgotten People and various treats baked by the women of Amina Cachalia House will be on sale.
When Hope and History Rhyme explores Cachalia's remarkable life from her early childhood to the women's march on the Union Buildings in Pretoria which took place on 9 August 1956, when a heavily pregnant Mrs Cachalia was one of 20 000 women to march against the pass laws for black women, to her banning, in 1963, for 15 years and the trials and tribulations when her husband, Yusuf Cachalia, was placed under house arrest and banned for a total of 27 years.
All the proceeds from the screening and the donations will be donated to the Rainbow Kidz pre-school situated close to Mary Waters High School.
One of the (Amina Cachalia House) residence pledges says: "To look beyond ourselves as individuals and use our gained expertise to make a difference in our community."
In their journey to live this pledge and follow on the footsteps of their namesake Cachalia, who in addition to her political activism was involved in community struggles, Amina Cachalia House has decided to adopt and get involved in a community pre-school.
The late struggle stalwart started the Women's Progressive Union which offered classes in literacy, shorthand and typing, baby care, dress-making and music to women in an effort to make them financially independent.
As part of honouring her memory, Amina Cachalia House has adopted their first community engagement project called the Rainbow Kidz pre-school.
"Our residence sees Rainbow Kidz as an opportunity where our students can honour Amina Cachalia's memory by getting involved in a project in our community that can really use our help," says Warden of Amina Cachalia House, Ms Vicky Heideman, who also a lecturer in the Faculty of Law
She says, "It is also an opportunity for our students to learn from their interactions with the children, to use their time and skills for a good cause and to gain an awareness of the issues facing the broader community."
"We chose this school as our community project because it is currently not receiving any support from any other university division/department/residence, and because there is a lot of scope for our students to make a difference through engagement and not just through donations."
She says the school currently has one teacher, and Amina Cachalia residents could help by reading the children stories, playing with the children in the playground or teaching them to make some simple toys.
"We have also identified the playground as an area where we could help by painting and maintaining the equipment and perhaps planting a vegetable patch as an educational tool for the children. The school building is very small, and they have requested a TV and DVD player so that the children can be entertained inside on rainy days," she says.
"My students could also help in this respect by making educational videos to show to the children on these days. We are hoping to raise a couple of thousand rand from the screening which could go toward paint, gardening tools, art and craft materials, and possibly a TV and DVD player," she added.
The residence formerly known as Hilltop 2 was renamed Amina Cachalia House in 2012 after an in-depth and lengthy naming process, during which all students in the residence were consulted.
The naming ceremony was a major highlight in the life of the residence. The students who had so thoughtfully chosen the name were able to meet Amina Cachalia, and her daughter, Ms Coco.
Sadly, Mrs Cachalia passed away suddenly on 31 January 2013. In honour of her memory, a tribute ceremony was held at the residence on 17 February 2013, when the students had returned to the university.
Photo: Judith Doubell
Source: