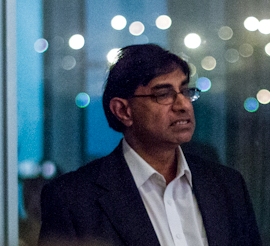 Rhodes > Latest News > 2013
Rhodes think tank seeks policies to improve SA
Date Released:
Thu, 15 November 2012 12:59 +0200
AN INTERNATIONAL think tank of leading economists and social scientists are holding a four-day brainstorming session at Rhodes University to come up with policy proposals to improve life for all South Africans.
Institute of Social and Economic Research (Iser) professor extraordinaire Vishnu Padaychee yesterday said the main aim of getting 25 of the top thinkers together for intensive "political economy of restructuring South Africa" sessions was to come up with positive solutions to a host of social problems plaguing South Africa.
The outcomes of the workshops - which addresses issues like ever increasing unemployment, the widening gap between rich and poor, crises in education and health, housing, electricity and water - will be given to government to use as they please.
According to Padayachee, many of the problems inherited from the apartheid government were still prevalent today - 18 years into the "new" South Africa. He said the idea to convene the think tank came about 18 months ago during a meeting with University of London's School of Oriental and African Studies economics Professor Ben Fine, National Union of Metalworks SA (Numsa) officials and others.
The decision came on the heels of the formation two years ago of a steering committee of Numsa members, Rhodes and Wits academics and the original four members of the Macro Economic Research Group (Merg) set up in the early 1990s by the ANC alliance to come up with policy framework for the incoming government.
The Reconstruction and Development Programme (RDP) was however chosen over Merg and 18 years down the line many of the problems that were on the table back then are still around today.
"The main purpose of Merg was to come up with a credible economic strategy," Padayachee explained. Spurred on by Numsa, Fine approached Padayachee and the other two people who worked on the Merg document last year to form an international team to relook at the issue.
Instead of redoing Merg, group resolved to relook at the whole issue.
The work is being funded by the internationally renowned Rosa Luxembourg Foundation from Germany with the view to contribute and inform government policy. "We are not agents of government our commitment is to enrich and contribute to policy debate."
Iser director Professor Robbie van Niekerk said the initiative was in line with Rhodes' commitment to strategically engage social and economic problems still plaguing the country. The workshop ends today.
By DAVID MACGREGOR
Photo by Adrian Frost
Source: Daily Dispatch
Source: