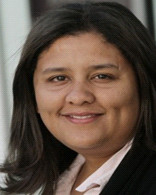 Rhodes > Latest News > 2013
RIP Mandy Rossouw: a tour de force passes
Date Released:
Wed, 13 March 2013 17:30 +0200
Mandy Rossouw, one of South Africa's most prominent journalists, passed away on Monday night at the age of 33 after a short illness.
Rossouw was discovered by a friend on 12 March 2013 after failing to arrive for their dinner date, according to the Mail & Guardian.
The Beeld states that Rossouw was admitted to hospital over the weekend with complications for what has been described as an unspecified but short illness, the symptoms of which included chest pains and gastric complications.
Rossouw held a Menell Fellowship at Duke University in North Carolina, USA and was a guest lecturer at a number of universities in South Africa, including Rhodes. She gave a lecture titled 'When a second transition has nowhere to go: exploring the gamble president Jacob Zuma took at the ANC's policy conference' at Rhodes on July 23 2012.
She was in the process of planning the 2013 Menell Fellowship Conference in the weeks preceding her death. The conference, due to take place on April 26 2013, has been coordinated between Angie Kapelianis from the SABC and Marion Edmunds, a documentary film maker as well as Professor Anthea Garman, a lecturer at the Rhodes School of Journalism and Media Studies.
Garman states that while she did not know Rossouw well, her impression from Rossouw's industry compatriots was that she was "hard-working, dedicated and took her journalism seriously."
Rossouw was also being considered as a possible addition to the programme Think Press to be held during the National Arts Festival.
In her career, Rossouw worked as the international correspondent for Media24, a political journalist for City Press, Die Burger and Beeld, was an Eyewitness News reporter and was the deputy politics editor at the Mail & Guardian from 2007 to 2011, after which she returned to her position at Media24.
Mandy Rossouw will be sorely missed by those in the industry as well as readers across the globe for her dedicated and responsible journalism.
Rossouw was responsible for breaking the 'Nkandla-gate' story and has published three books, including 'The World according to Julius Malema', co-authored with veteran journalist Max du Preez.
On Rossouw's death, du Preez tweeted "I'm saddened by Mandy Rossouw's death. Lovely human being & could have become one of our great editors."
Words by Chelsea Haith
Photo source: Rossouw's Twitter account
Source: Oppidan press website
Source: