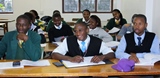 Rhodes > Latest News > 2013
Rural learners find Maths and English classes "fun and accessible"
Date Released:
Tue, 13 August 2013 12:59 +0200
In response to a request from the local community of Keiskammahoek to assist with ailing education, Rhodes University's Faculty of Education in conjunction with the Ntinga Ntaba ka Ndoda organisation recently hosted a week-long tutoring programme for top pupils from seven secondary schools in the area. This was the first step taken to provide a university experience for rural working class children at Rhodes University.
Recent statistics suggest that up to 80 per cent of South African schools are not meeting minimum performance standards, with the Eastern Cape faring the worst. According to a Business Day report (26 January 2012) only half of all learners in the Eastern Cape pass their final exams.
During a visit to Rhodes University with members of the Keiskammahoek community in 2012, Mr Mazibuko Jara, executive director of the Ntinga Ntaba ka Ndoda organisation, made a formal request to Rhodes University for assistance with teacher professional development, and more recently a tutoring programme for the top pupils.
The 42 Grade 11 and 12 pupils from HH Majiza, KwaDliso, Kwezilentaba, Lingani, Ntaba ka Ndoda, Rabula and Tembelani High Schools underwent intense English and Maths tutoring from teams headed up by Mr Andrew Stevens and Ms Caroline van der Mescht, assisted by Postgraduate Certificate in Education (PGCE) student volunteers.
The pupils were divided into two groups and alternated between English and Maths classes during the day. They were hosted in Rhodes University residences and attended shows at the Schools Festival during their stay.
According to Luthando Gaika and Sandisiwe Mbambo, pupils at HH Majiza Secondary School, the classes were taught in a "fun and accessible" way and the learners were encouraged to ask questions throughout the programme.
According to Gaika, "This was very important because we were taught that there is no such thing as a stupid question. We felt free to ask about things we didn't understand. This helped a lot," she said.
Mbambo said the classes helped her understand more about financial maths and trigonometry, previous problem areas in her favourite subject. She also learnt how to structure an essay and particularly enjoyed the stretches and mild exercises the pupils took part in as part of Ms Van der Mescht's English classes. "This was refreshing and kept us going. If she saw that we were getting tired she would make us stand up and stretch. It really helped to keep us focused," Gaika said.
Siphosethu Dingiswa of Thembelani High School said learning how to structure an essay was the highlight of his involvement and thanks to Van der Mescht's efforts, he now knows how to attract a reader to his pieces.
Simthembile Magwaca, also from Thembelani High School said the exposure to English stories has helped him enormously.
Mr Stevens became interested in the initiative when he heard that Mr Jara, a former pupil of his during his years as Principal of All Saints College in Bhisho, was involved. The school was the first non-racial non-fee paying school in South Africa.
"I immediately wanted to be part of it after hearing Mazibuko was spearheading the initiative. I have been involved in teaching teachers for many years now and I really wanted the experience of teaching pupils again," Mr Stevens said.
He asked the pupils to identify particular focus areas in the curriculum, and there was broad consensus on linear programming, financial maths, calculus, trigonometry and analytical geometry. In the future Mr Stevens said he would like to collaborate with teachers in order to increase the reach and impact of the programme..
According to Ms Van der Mescht, where pupils are strong, they have a cluster of strengths such as positive interaction, volunteering and completing homework assignments.
"Some of the schools have nurtured confident and outgoing young people. Unfortunately the same is true for the reverse, and where groups are weak there is a cluster of weaknesses and the pupils lack confidence," she said.
Photo and story by Sarah-Jane Bradfield
Source: