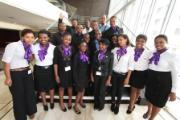 Rhodes > Latest News > 2013
SIFE students finding sustainable solutions
Date Released:
Fri, 31 August 2012 15:00 +0200
The Students in Free Enterprise (SIFE) are made up of various groups from tertiary institutions all round the world actively involved in changing the social, environmental and economic stability of those in need. Handling around seven projects that benefit the broader Grahamstown community, around 23 Rhodes SIFE students recently took part in a national competition where they got through to the finals.
In South Africa, over 25 universities and colleges have formed their own SIFE groups to develop communities in need inspire future leaders and develop sound and sustainable business practice based on the triple bottom line of balancing the social, economic and environmental needs of the community. Webster Lenyanyabedi, a third year BComm (Accounting) student, says SIFE-RU is "a fantastic organisation that brings you closer to the practicality of a problem".
"It gives you an edge that no classroom could ever give you. We regularly consult our advisors, but we use our own ideas to solve problems within our communities. That is the distinction of a SIFE student to always try and find solutions. No other students' society can offer that: it bridges such a huge gap between what is taught at a university and real life."
The SIFE national competition is held every year and grants an opportunity for the groups to present their projects before a panel of judges, including CEOs from corporates such as Anglo-American and Sasol. Held from 11 to 12 July at the Sandton Convention Centre, Webster describes it as "a high profile event you get to wear a suit and the stakes are high as you are showcasing your university, your group and the projects as well as yourself as an individual".
Successful projects proceed to the next round until the final winning group is chosen and each group is given 25 minutes to present and five minutes for questions. Rhodes got through to the final round before the finals. "We took a team of 23, and we usually take around seven, so it was a huge achievement for us," he said.
One of SIFE's main projects is CommuSani (community sanitation) which aims to eradicate the bucket toilet system, the most prevalent and unhygienic form of sanitation in Grahamstown's townships.
The Buy a Brick campaign allows people to purchase a brick for a minimum of R10 which is used to build waterless eco-toilets. The first of these will be installed at Thyiluwazi crèche, which cares for 70 children. An estimated R3000 has been raised so far this year with the current ongoing campaign expecting to raise more by the end of September.
Another project is a rural farming project started by BComm Honours student Brett Sutherland, in collaboration with Grounds and Gardens. Their successful vermiculture project has resulted in a burgeoning trade in vermi-tea, a high-octane fertiliser that produced by red wriggler worms. Sold for R10/litre, the project has grown from two to eight bins and regularly supplies Lillian Ngoyi residence as well as Rhodes staff with fertiliser for their gardens.
"Poverty is all around us," says Webster. "What we need to do is change our mindsets about what people need and teach people how to become independent. Not just treat the symptoms but look at the core of the problem. There's still so much that Rhodes can do, but it's up to the students to do it, with the help of the university!"
Story and photo by Anna-Karien Otto
Source: