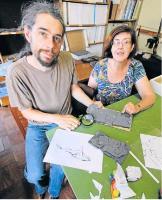 Rhodes > Latest News > 2013
Solving puzzle of what ancient fish looked like
Date Released:
Mon, 4 November 2013 10:00 +0200
AWORLD famous fossil site on the outskirts of Grahamstown has yielded yet another important ancient treasure. After years of painstakingly splitting open salvaged roadworks rock and puzzling over fossil fragments, renowned paleontologist Dr Rob Gess's patience paid off when he found the final piece of a 360-million-year-old armourplated-fish jigsaw – the tail.
The Rhodes University based fossil expert – who has made international headlines over the years finding fragments of never before seen Late Devonian fish and later a scorpion – says putting together the puzzle pieces is almost as exciting as finding complete specimens.
"Second only to discovering a new and beautifully preserved specimen is the excitement and joy when days of analysis come together in a well understood new species. "This is problem solving at its best." Although Gess finally found a tail that matched other pieces he had collected, trying to work out exactly what the find looked like required the help of Australian soft anatomy expert Professor Kate Trinajstic.
A world leader in her field, the Curtin University expert who is based in Perth, Western Australia, is visiting Grahamstown for six weeks to help Gess come up with three dimensional models of what the fish would have looked like.
"There are only a few people in the world studying early vertebrate palaeontology and Rob is the only early vertebrate palaeontologist in South Africa so collaboration provides intellectual companionship and cross fertilisation of ideas for us all," she explained.
According to Trinajstic combining the pair's skills was better than either of them working on the puzzle alone as they both brought different talents to the research.
"Rob has incredible skill in recognising the fossils, which are very hard to detect in the rocks and he has done all the preparation and determined the identity of the fishes so far discovered.
"My skills are in the study of soft anatomy, which is very rare in the fossil record."
Working together the duo are able to solve the puzzle as to what these ancient fishes looked like.
Trinajstic said clues to understanding our early evolution were scattered across the globe and experts from around the world often collaborated to solve these mysteries.
According to Gess the pair were working together to reconstruct various species of armoured fish found on the site.
As soon as the fish reconstruction is finished the description and reconstruction will be submitted to an international journal later this month.
Photo and story by David Macgregor
Source: Daily Dispatch
Caption: PUTTING PIECES TOGETHER: Dr Rob Gess and Australian Professor Kate Trinajstic examine the fossil finds
Source:Daily Dispatch