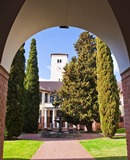 Rhodes > Latest News > 2013
Sort it out or get out
Date Released:
Fri, 23 August 2013 09:59 +0200
THE prolonged water outages in large parts of Makana Municipality are not just an inconvenience to many residents. They threaten the future of Grahamstown.
Rhodes University, which is the lifeblood of this small city, has warned the outages may force it to temporarily close its doors.
High-lying areas like Hlahlani and parts of Joza in Grahamstown East have suffered the health and other consequences of an insecure water supply for over two years now.
Steadily, over the past year, the problem has flowed downhill into the centre and western parts of Grahamstown, including the university.
Rhodes is synonymous with Grahamstown. It is by far the largest employer, contributing approximately 60% of Grahamstown's GDP.
It is also ranked as one of the top universities in Africa.
Although one of the smallest it boasts the highest per capita research output of any South African university.
Because of its excellence, the national government has ordered that it should grow its student numbers.
By 2019 its student body must grow by over 1 000 students to 8 748 – a project that means more infrastructure, more staff, and more resources.
Rhodes is ready for the challenge and has planned well ahead. Over the next few years it is ploughing over R200-million into infrastructure and has planned new residences and new academic buildings.
But because the Makana Municipality cannot provide a supportive environment for the nationally mandated growth of this university all its plans may come to nought.
This 109-year-old institution — which has survived two world wars — may not survive the incompetence of the Makana Municipality.
If it closes its doors for the duration of water outages for health and safety as well as financial reasons the knock-on effect to the economy of Grahamstown will be dire.
Rhodes, which pays over R2.5-million a month in rates and service charges, has protested loudly on its own behalf and on behalf of the residents of Grahamstown, many of whom have lived without water for months.
But it does not protest in a vacuum. It has offered the municipality the full weight of its skills and expertise to help dig it out of the hole it finds itself in. It has at its disposal some of the world's leading water experts able to solve far bigger water related problems than those in Makana. Surely it is time for the municipality to take up this offer.
Ultimately, the buck stops with the leaders of the city, both political and municipal. If they remain unable to resolve this long-standing problem, they should resign.
As Rhodes' vice chancellor Saleem Badat has pointed out, their failure to provide basic services is crippling the city and compromising the promise of a better life for all.
Daily Dispatch Editorial
Source: