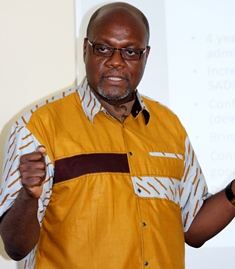 Rhodes > Latest News > 2013
"South Africa's foreign policy priorities are so weak under President Zuma"
Date Released:
Wed, 2 October 2013 12:15 +0200
According to Dr Paul-Simon Handy, Research Director of the Institute of Security Studies (ISS), South Africa's foreign policy priorities are so weak under President Zuma as to be almost impossible to define.
He was presenting his paper entitled 'In search of a clear profile and strategy: South Africa's foreign policy under President Zuma' at Rhodes University recently.
He says, while former president Thabo Mbeki's focus on human rights development in Africa comprised a relatively straightforward foreign policy objective, the priorities of President Jacob Zuma's foreign policy are not clear.
In addition, expectations for what South Africa should be doing in Africa are much higher than the reality, he said, with external actors generally considering South Africa capable of doing much more than it is at present.
Dr Handy said he has been trying to capture the essence of South Africa's foreign policy since Mbeki left power, comparing Mbeki's focus on human rights development on the African continent with the current policy objectives.
According to Dr Handy, President Zuma "was not elected on a foreign policy ticket", and had different priorities from the start, including a focus on employment and addressing other internal domestic challenges.
In breaking with Mbeki's focus on human rights development, president Zuma seems to be pursuing economic diplomacy as a means of capitalising returns on investment, although even this is unclear, said Dr Handy.
Major structural inconsistencies in the treatment of other (African) countries suggest a lack of clear strategic objectives. The decision not to seek approval from the African Union to send troops to the Central African Republic (CAR) suggests little respect for regional African powers, while the confusion over the troops' presence suggests disorganisation.
"Still no one really knows what South African troops were doing in the CAR. This shows a lack of clear strategic objectives that resulted in a poorly prepared intervention which resulted in a loss of lives. I'm not even sure who, beyond Lindiwe Zulu, president Zuma's official foreign policy advisors are," Dr Handy said.
The only trend he can pick up is the priority of economic gain versus human rights promotion, in which economic gains are maximised.
"South Africa's foreign policy seems more concerned with process than outcomes. Being seen to be doing something is more important than achieving anything. The benevolent hegemon is no more. South Africa is ready to upset its partners, both locally and abroad, to achieve some foreign policy objectives," he said, referring to the push to elect Nkosazana Dlamini-Zuma to chair the African Union.
Describing the process as unusual, Dr Handy said it signified a break with previous foreign policy approaches. "This was a nasty battle and South Africa showed it could impose its will in Africa despite strong opposition from Nigeria, Kenya and Egypt who all have serious domestic issues to contend with. South Africa remains the only country in Africa that can project its power beyond the Southern African Democratic Community (SADC)."
Dr Handy predicts that South Africa's soft power will continue to increase in Africa as a donor country of the AU and SADC, and that by bringing other African countries into BRICS membership, it will position itself as a gateway to the continent.
"While there is nothing wrong with South Africa pursuing economic foreign policy objectives there is a much bigger role South Africa could play in Africa other than extending its Pick 'n Pays and Nandos. Values are and should be foreign policy objectives too," he said.
Dr Handy is a regular visitor to the Department of Political and International Studies at Rhodes University where he is a guest lecturer in the Peace and Conflict in Africa component of the Diploma in International Studies.
He is widely published on issues related to governance, statehood and foreign policy. His recent research interests are centred around African security issues, the role of collective security regimes as well as Africa in the world.
Story and photo by Sarah-Jane Bradfield
Source:Communications Division