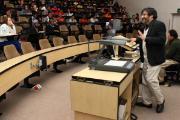 Rhodes > Latest News > 2013
South Africa still divided and unequal
Date Released:
Fri, 27 July 2012 12:00 +0200
In his Teach-In Lecture yesterday (26 July), Professor Steven Friedman said, bypassing the focus on a second transition and focusing instead on how to meaningfully and sustainably implement the promises made to South Africans post 1994 should be the focus of government.
"South Africa is a deeply divided society and we are aware that the legacy of apartheid didn't disappear in a puff of smoke at the inauguration of Mandela. The state itself, if it wants to pursue equality for all, must face this," he said.
Prof Friedman was addressing Rhodes University students, staff and community members during the fourth Teach-In Lecture series which was organised by the Politics and International Studies Department. The title of his lecture was: "The Fault Lies Not in Our Transition but in Ourselves: The Second Transition and the Deflection of Responsibility."
He said while the inherited legacy of apartheid makes for a complex set of political and socio-economic dynamics in post-apartheid South Africa. He further explained the role government must play in order to achieve Constitution objectives.
"There isn't a second transition because the first one hasn't been dealt with yet. What should have been done after 1994 was to develop a coherent strategy to steer us through inequalities. Unfortunately this didn't happen. The challenge is not how to make the second transition happen, it is how to make the first transition begin."
According to Prof Friedman, a preoccupation with the widely held instrumentalist view of the state, as coined by South African political economist and writer, Harold Wolpe, is one of the first aspects that need to be addressed.
This view, which Prof Friedman said has dominated government thinking for years, perceives the state as a machine which performs certain functions when certain buttons are pressed.
"There is danger in seeing the state as something that is already powerful. It's more appropriate to see it as a set of relationships – the state can't govern unless in relation to certain interest groups and people within society," he said.
He added that this alternative view has significant implications for what it means to govern compared to the instrumentalist approach.
Rather, in order to achieve democratic objectives and lessen inequality, government should become keenly aware that any meaningful and sustainable change needs to be negotiated with key players such as various interest groups and power clusters within civil society.
"Many government officials are of the opinion that those who dominated the economy and skills pre 1994 still dominate them today, and this must be confronted, preferably through meaningful engagement and negotiation with civil society and the various power hubs," he said.
With the ANC's Mangaung conference around the corner, Prof Friedman suggested that while changes to policies might be suggested during the conference, this doesn't mean they will be implemented because they still require to be negotiated with civil society and various power hubs. "If the interests clash, they won't go ahead with instituting policy."
Additionally, the state needs the support of a large constituency, which Prof Friedman believes to be lacking.
"The problem is not that most ANC voters have problems with the government because they haven't given them goodies; it's because they are not taken seriously as human beings," he said.
He emphasised that the regular service delivery protests we witness are really about citizenry desperation to be heard.
Professor Pierre de Vos will deliver the last lecture entitled: "Don't touch me on my policy! The role of the judiciary in the economic transition of South Africa."
The purpose of the Annual Teach-In is to consider an issue of public and interrogate public issues.
For more information visit: http://www.ru.ac.za/politicalinternationalstudies/teach-in/
By Sarah-Jane Bradfield
Photo by Ross Shackleton
Source: