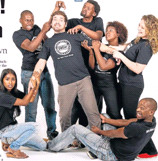 Rhodes > Latest News > 2013
Sparkling UBOM! pulls it off again
Date Released:
Mon, 11 March 2013 09:59 +0200
Betti & the Yeti takes stage in Grahamstown
RENOWNED Eastern Cape theatre company, UBOM! is at it again with the introduction of their latest production, Betti & the Yeti.
The production is set to hit the stage next week.
Started in connection with Rhodes University in 2003, UBOM! was developed to actively contribute to the development of a specific provincial cultural identity.
It was also formed to promote theatre in the province, and has created and toured an average of five or six original full-length works each year.
Performer and director of their latest offering Daniel Buckland said he was excited at what the company was doing in the province.
"I was part of the first year of UBOM! Eastern Cape Drama Company as an actor, and have since been contracted to direct specific shows.
"I welcome the chance to be employed by one of South Africa's premier drama companies, and to do it all in the Eastern Cape," he said.
"Besides being a platform for local and national artists to develop their skills and talents, UBOM! serves to uplift these performers and show people in the province that it is possible to attain success as an actor or artist locally."
UBOM! has been responsible for productions including Romeo and Juliet; Wrecked and UHansie NoGrietjie Erhini. UBOM! has also been involved in school and children's theatre through productions such as Eco Wolf and the Three Pigs.
The company's latest children's play, Betti and the Yeti, takes the stage from March 11 until March 13 at the Rhodes University Theatre. Although it's a kids' production, Buckland said it is a show for the entire family.
"It appeals to all ages, and has a strong moral fibre interwoven with a compelling and provocative story, delivered in a larger than life, surreal, cartoon visual style," said Buckland.
The production leads the character of Betti in an encounter with a frightening figure in the forest – the Yeti – causing panic among the people from her community.
Performer Megan van Wyk said she hoped for audiences that helped with "cultivating a society that values theatre and drama as an art form". —
Picture supplied: IN DEMAND: Eastern Cape theatre company UBOM! will stage their latest production, 'Betti & the Yeti', at the Rhodes University Theatre next week
By SHANAAZ PRINCE
Source: Daily Dispatch
Source: