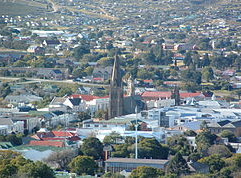 Rhodes > Latest News > 2013
Special Plan Will Ensure Water Supply
Date Released:
Thu, 29 August 2013 08:59 +0200
Rapid Action unit to assist.
Plans have been put in place to repair Grahamstown's antiquated water supply infrastructure, the cause of serious water shortages.
Earlier this month Rhodes University students marched in protest to the offices of the Makana Municipality to protest about the water shortages, which had lasted for several days.
The Cope MP, Nqaba Bhanga, put a parliamentary question to Edna Molewa, the Minister of Water and Environmental Affairs, asking what steps were being taken in this regard.
Molewa replied that the Amatola Water Board had appointed a rapid action unit to assist the Makana Municipality. Experts had stabilised the town's water supply system two weeks ago and had undertaken an investigation on site.
An action group consisting of interested parties from the Eastern Cape Department of Local Government and Traditional Affairs, the South African Local Government Association (Salga) and Rhodes University has been put together. They have agreed on plans for the short, medium , and long terms.
Grahamstown is served by two water schemes – the Waainek Waterworks, which receives its water from the Howieson's Poort and Settlers dams, and the James Kleynhans Waterworks.
According to the Minister, the pumps at the Howieson's Poort pump station had broken. From time to time, further problems were also experienced with the electricity connections to the pump station. "This is attributed to antiquated infrastructure. Further delays in the restoration of the water supply have occurred mainly because the suppliers are based in Gauteng."
The municipality had tried to use the James Kleynhans dam to provide water to the whole town. The heavy demand for water, however, had exceeded the supply and the levels of the reservoirs in both schemes had dropped.
"Especially the higher-lying communities in the town have been affected, including the Rhodes University residences, which have suffered the most as a result of the water shortages. Tankers have been used to provide emergency water supplies. The university has been provided with a tanker. In this way, water has been supplied to every residence, " was Molewa's response.
The Municipality and the Cacadu District Council are currently engaged in the purchase of new pumps to replace the existing ones. To meet the daily demand, water services also are being bought from the Amatola Water Board and work has begun to increase the capacity of the James Kleynhans dam so as to enable it to provide for the expected demand by 2040. The first phase includes the construction of a reservoir, which will be ready by November 2013. Phase Two includes the extension of the James Kleynhans Waterworks at an estimated cost of R66 million. This is expected to be completed in 2016.
In is reaction, Dacre Haddon, DA MPL, said that he hoped these plans were not just whirlwind interventions. An extraordinary debate on the water crisis has been scheduled for 12 September in the Eastern Cape Legislature.
By: Philda Essop
Article Source: Die Burger (Eastern Cape)
Source: