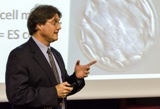 Rhodes > Latest News > 2013
"Stem cells: the hype and the hope"
Date Released:
Fri, 24 May 2013 13:59 +0200
Speaking at the annual Peter Rose Biotechnology Lecture, the founder of Biotechnology at Rhodes recently, acclaimed scientist and advocate for bio-entrepreneurship, Professor Michael Pepper provided a leading perspective on stem cell research in his address, "Stem cells: the hype and the hope."
Cutting edge developments in stem cell research are increasing awareness around the potential of stem cell biotechnology to contribute to a wide array of medical solutions such as cancer, heart failure, diabetes and HIV treatment. Stem cell therapy and research are in their infancy in South Africa, he said, adding that the role of stem cells in infectious diseases is as yet totally unexplored.
Prof Pepper explained that while there are currently only a few well-established indications for stem cell therapy, which include bone marrow transplantation (which is universally employed and approved), fractures, chronic wounds and burns, recent developments in technology are increasing its potential scope.
Scientists at the Oregon Health and Science University and the Oregon National Primate Research Centre recently announced that they had succeeded in [reprogramming] human skin cells to become embryonic stem cells capable of transforming into any other cell type in the body.
According to the researchers and South African experts, this new technique is important because it uses a patient's genetic material, meaning that the stem cells – used for therapeutic rather than reproductive purposes – contain the same genetic matter as the person they are being put into and so will not be rejected, which can happen if another person's DNA or cells are involved in the process.
Based on a technique called somatic cell nuclear transfer (SCNT), the process involves transplanting the nucleus of one cell, with the donor's DNA, into an egg cell that has had its nucleus removed. The Oregon-based researchers used unfertilised eggs. "Future applications provide a great source of hope for many patients," Prof Pepper said.
Prof Pepper is currently involved, along with an international team of researchers and academics, in working on an HIV gene-therapy to create HIV-resistant hematopoietic stem cells, which could have far-reaching implications in the treatment and prevention of HIV and Aids.
By applying the CCR5 gene therapy to harvested haematopoietic stem cells, the cells become resistant and can be transplanted into humans who would effectively then be HIV-resistant.
Researchers involved in this project include Professor Roberto Speck and Mr RenierMyburgh (PhD student) at the University of Zurich,Professor Karl-Heinz Krause and Dr Patrick Salmon of the University of Geneva and Mr Carlo Jackson together with Prof Pepper at the University of Pretoria.
These exciting new developments in stem cell research require extensive legislation, Prof Pepper said, to ensure that pre-clinical studies and well controlled clinical trials have been conducted prior to introduction of cells into patients, to ensure that the purported therapeutic effect is real and to ensure that there are no serious side effects.
He said the current lack of legislation and regulations permits and in some cases even encourages, the emergence of medically unsound and unethical practices "that may be associated with the exploitation of emotionally vulnerable patients".
The Institute for Cellular and MolecularMedicine (ICMM) at the University of Pretoria was established in August 2008 and comprises seven faculties and 19 groups, in which research themes include Stem Cells, Neurosciences, Infectious diseases, Cancer, Imaging, Bioentrepreneurship and Human tissue legislation.
The teaching of Biotechnology at Rhodes started in 1986, in Microbiology Department, and in 1995 Prof Peter Rose was appointed first Professor of Biotechnology. The teaching of Biotechnology at the University commenced in 1986, with the first Honours course offered at a South African University established in Microbiology Department by Professor Rose. A chair in Biotechnology was established in 1995 with Peter Rose appointed as its first Professor.
Photo by Robynne Peatfield
Story by Sarah-Jane Bradfield
Source: