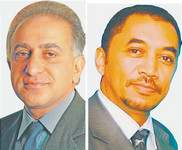 Rhodes > Latest News > 2013
Struggling students' champions
Date Released:
Tue, 29 October 2013 11:20 +0200
Amid the massive challenges in providing quality education to our youth stand two beacons of hope. Rhodes University's Saleem Badat and Nelson Mandela Metropolitan University's Derrick Swartz are changing the face of tertiary education in the region through innovation, vision and management excellence.
Rhodes University vice-chancellor Dr Saleem Badat uses his own salary to foot the tertiary education bill for some students in Grahamstown.
He has already donated more than RI-million to a scholarship fund which benefits disadvantaged students. And that is why, amid the massive challenges in providing quality education to the province's youth, Badat stands out as a beacon of hope.
He started the Jakes Gerwel Rhodes University Scholarship Fund in 2006, which also uses money meant for "vice-chancellor benefits" like business-class air travel. During an interview with The Herald recently, Badat said: "Scholarships play a big part in closing the gap between disadvantaged students and their more well-off counterparts."
He said the university offered scholarships worth R16-million from the National Student Financial Aid Scheme. On top of this, the university funded a further R40-million worth of scholarships. "We aggressively look for scholarship donors. We spend a lot of time persuading companies to invest in tertiary education."
Badat said the university was able to generate such a large amount of money for scholarships because the institution had a strong track record. "In fact, I am pretty confident only a few of our graduates are unemployed. All of them are confident individuals who exercise strong leadership skills in society."
Citing an exemplary former student, Badat said Professor Tebello Nyokong's research had the potential to revolutionise the treatment of cancer. Nyokong holds the South Africar Research Chair Initiative in medicinal chemistry and nanotechnology. Her research output was among the highest of any individual academic in South Africa, Badat said.
Her work included significant strides towards an effective treatment of cancer through photodynamic therapy, intended as an alternative to chemotherapy. In 1999 Badat became the first chief executive officer of the Council on Higher Education, which advises the education minister on higher education policy issues and is also responsible for quality assurance.
In 2006 he was appointed vice-chancellor of Rhodes University. He is the recipient of numerous academic awards and prizes including the Hubert Humphrey Fellowship, the Association of Commonwealth Universities scholarship and British Council scholarships.
Under Badat's tenure, the university intends to grow its student body to 8 748 by 2019. It is currently home to 7 267 students. He said there would be emphasis on Rhodes becoming a more postgraduate university.
"Our enrolment plan expresses our intention of becoming a more postgraduate university and overall we seek to enhance our contribution to knowledge production through research and scholarship." It was projected that by 2019 its undergraduate numbers would decrease from 70% to 68% while postgraduates would grow to 32%.
To bolster student admissions, Rhodes will spend about R200-million on infrastructure in the next two years. The Rhodes Community Engagement has numerous initiatives in preschools and schools around Grahamstown, and Badat hopes to extend this programme to more schools around the province in the near future.
"We want to ensure talented pupils get high-quality support." Another idea of Badat's is to establish a world-class boarding school for the province's brightest pupils. "We are looking at lots of ideas and this is one of them." But Badat is quick to point out that Rhodes will not be able to solve the basic education crisis. "We all need to help. All of us can contribute something to basic education," he said.
EDUCATION is a sacred right that deserves the same kind of respect doled out to religious institutions, according to Nelson Mandela Metropolitan University (NMMU) vice-chancellor Professor Derrick Swartz.
In an interview with The Herald, he said: "You would not walk into a church and smoke a joint. It is a sacred place that needs to be held in high regard." Swartz, who has served as vice-chancellor since 2008, put NMMU firmly on the map with his creative responses to challenges facing South Africa in the post-apartheid education system.
At a time of extraordinary economic and demographic change, Swart helped alter the face of tertiary education in the region through innovation, vision and management excellence. He announced earlier this month that a fully fledged medical school was set to be opened in Nelson Mandela Bay in five years.
But Swartz is the first person to admit that more needs to be done in basic and higher education. "We still need to have a different conversation. There are still a lot of things that need to be done," he said. Swartz hopes to transform the university into a leader of education. It is already known for its cutting-edge knowledge.
The plan forms part of Swartz's Vision 2020 which aims to grow the institution into a "dynamic African" university. The university is implementing a wave of structural developments, with upgrades and new projects set to cost R1-billion by 2020. Swartz said the developments were aimed at keeping abreast of the next generation's tertiary educational demands, fuelled by the current "global revolution in science and technology".
"From an academic point of view, we are looking at developing specific fields which include marine geography and marine law." For many years higher education leaders would nit-pick about the quality of schooling in South Africa, but Swartz decided his university would be part of the solution.
During his tenure he has helped launch: The Centre for the Community School which focuses on the reclamation of schools through curriculum development and social support; The Centre for Integrated Post-School Education and Training, which models new civic empowerment strategies and FET college lecturer capacity development;
The Govan Mbeki Maths and Science Unit which offers a range of maths and science programmes for pupils at different schooling grades throughout the province; The NMMU School for Professional Continuous Development which helps upgrade teachers' qualifications, especially in the rural areas of the province;
and The NMMU School for Education Research and Engagement which delves into effective school management models and the development of educational technologies in schools. Swartz said the sacred offering of an education still needed to be instilled among pupils and students. "It is the cardinal entity missing from the system.
We need to respect education for what it can offer our society as a whole. "We need a safe place where education and learning can take place even if the rest of the world collapses. Education is that important." Acknowledging South Africa's epic education crisis, he said: "I am even more troubled it took us so long to realise we hit rock bottom.
We are in a crisis that will require a Herculean effort to pull us out of the doldrums." Using a simple allegory, Swartz said: "If you were an alien landing in South Africa what would you think our priorities are? "Compare the quality of our school buildings to the World Cup stadiums. You would think the most important aspect of our lives is sport." He said this needed to change and the funding for the 2010 World Cup should have been spent on getting the education system right. He is also the first one to say that higher education could still do more.
"We have not adapted to the new realities. We can't wish them away. The level we get from the schools is just not good enough." But he said the answer did not only lie with the country's universities. "We are charged to focus on higher education. There is a limit in which we can expand the university to become all and sundry.
Our core business is to teach undergraduates to become graduates." He said the answer lay with good technical schools and the FET sector. "Young people see a university education as a means to get to the top, but you need engineers, artisans and bricklayers."
Captions: BEACON OF HOPE: Rhodes vice-chancellor Dr Saleem Badat has expansive plans for the institution. EDUCATION SACRED: NMMU vice-chancellor Derrick Swartz.
By Michael Kimberley
Article Source: The Herald
Source:The Herald