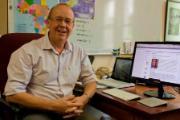 Rhodes > Latest News > 2013
Student-mentor pair selected for prestigious Geography fellowship
Date Released:
Tue, 18 December 2012 15:59 +0200
Third year Geography student Natalie Ellis and Prof Roddy Fox have won a place in the MyCOE/SERVIR fellowship programme starting in Nairobi, Kenya in December 2012. Only 18 out of 200 applicants from African countries have been selected.
"I was honestly so surprised when I was chosen…it was the last thing I was expecting," said Ellis, who underwent an intensive application process, including a thorough project proposal.
Prof Fox will be her mentor and will join her on the 10-day capacity building event in Nairobi. He also assisted by running workshops for interested students on how to put applications together and writing a letter of motivation for Ellis.
The American Association of Geographers facilitates the programme and is a founding member of MyCOE (My Community Our Earth). This private-public establishment provides geographical perspectives, learning resources and technological tools to facilitate contact between youth and local communities around themes of sustainability.
SERVIR is a collaborative venture between institutions such as NASA who help governments to make decisions about environmental issues through Earth observation and geographical technology.
The fellowship programme seeks to address themes of climate change, agriculture or food security through the use of geographic technologies. The Geography Department will benefit from both Ellis and Prof Fox's access to the latest technologies and information available in the field, which will be integrated into teaching and research at Rhodes. "We read about them and see them, but this is a chance to get familiar with them," says Prof Fox.
According to him, it was Ellis' good academic record, hard work, and exposure to Geographical Information Systems (GIS) that earned her a place in the competitive programme. Ellis is looking forward to expanding her GIS knowledge, although she admits the possibility of spending 10 days shouting at a computer screen because she recalls how frustrating GIS software can be. "But I am expecting to come out of the programme feeling much cleverer and more capable than I am now," she says.
Ellis' planned Honours degree in Environmental Water Management fits in neatly with one of the three themes of the programme: water resources. Her focus will be the impact of climate change on communities of the Thina catchment area in the Transkei. She is hoping to make a connection between the change in rainfall patterns in the area, grazing land use and whether the community has abandoned agriculture in favour of kitchen gardens.
Where the majority of students selected from countries such as DRC, Ethiopia and Tanzania are at PhD level, Ellis is one of only of two undergraduates. She will get the chance to workshop her ideas with the other students who will continue to monitor each others' progress throughout the fellowship through internet uploads.
Ultimately, Prof Fox believes that it is important to get students interested in something that is fun, and to reward hardworking students through opportunities which are not only interactive, but spark off connections with like-minded people.
Story and photo by Ruth Woudstra
Prof Roddy Fox will be mentoring Natalie Ellis (on the monitor) in the 10-month MyCOE/ SERVIR geography fellowship programme.
Source: