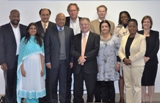 Rhodes > Latest News > 2013
Tax expert "stunned" to be a member of the Tax Review Committee
Date Released:
Fri, 2 August 2013 08:59 +0200
South African tax expert and Rhodes University Professor, Matthew Lester has been selected to be a member of the Tax Review Committee announced recently by the Minister of Finance, Pravin Gordhan. The committee will be chaired by Judge Dennis Davis.
Launching the Tax Review Committee in Pretoria on 17 July, Minister Gordhan said the committee should evaluate the South African tax system against the international tax trends, principles and practices, as well as recent international initiatives to improve tax compliance and deal with tax base erosion.
Prof Lester is astonished by the Minister's decision to include him on the committee. He said there are some amazing tax minds in South Africa today.
"I am stunned. My career in tax started when the Margo Commission on tax was reporting. Then we had the Katz Commission. Now to be part of the Davis Committee is a great honour," he said.
He said that while studying at Rhodes in the 1980s, he learned not to be frightened of being controversial and not afraid to speak his mind concerning the interests of all South Africans.
"I am also independent of any business group, sector or political party. Perhaps that was what the Minister of Finance, Pravin Gordhan and Judge Davis were looking for," said Prof Lester.
"If the Davis Committee could make a meaningful contribution to the lives of all South Africans that would mean a great deal to me," he added.
Prof Lester has been tasked by Judge Dennis Davis to look into the tax profile of small and medium enterprises. "That is a huge subject with the well-being of more than 1 million businesses and their stakeholders to consider," he said.
The announcement gave effect to the Minister's announcement in February when he tabled the 2013/14 budget that government will initiate a tax review this year "to assess our tax policy framework and its role in supporting the objectives of inclusive growth, employment, development and fiscal sustainability".
The terms of reference for the Tax Review Committee are to inquire into the role of the tax system in the promotion of inclusive economic growth, employment creation, development and fiscal sustainability.
As part of its work the committee will take into account recent domestic and global developments and, in particular, the long term objectives of the National Development Plan (NDP), before it makes recommendations to the Minister of Finance. Any tax proposals arising from these recommendations will be announced as part of the normal budget and legislative processes. As with all tax policy proposals, such proposals will be subject to normal consultation and parliamentary oversight.
The tax review committee members will include Annet Wanyana Oguttu, Matthew Lester, Ingrid Woolard, Nara Monkam, Tania Ajam, Nirupa Padia and Vuyo Jack, as well as Treasury chief director Cecil Morden and South African Revenue Service official Kosie Louw in an ex officio capacity to provide technical support and advice.
Lester is an Associate Professor at the Rhodes Business School. He lectures primarily in the fields of taxation, stewardship and governance. He is widely acknowledged as one of the foremost tax experts in South Africa and pens a weekly article in the Sunday Times.
Source: