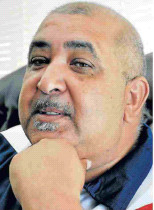 Rhodes > Latest News > 2013
Teacher's advice all adds up
Date Released:
Wed, 9 January 2013 15:59 +0200
AN award-winning teacher based in the US believes maths journals in the classrooms is the answer to South African schools' appalling mathematics results. St Claire Adriaan, formerly of the Eastern Cape, is the principal at Success Preparatory School in the US, which caters for kindergarten to grade 6.
While on holiday back in Port Elizabeth as matric results were released last week, Adriaan noted that more needed to be done to improve the marks of mathematics at Eastern Cape schools. Adriaan, whose accolades include the Disney Teacher Award Honoree in 2006, the San Diego CW5 Dream Classroom winner in 2006, and University of Kentucky Teacher who made a difference in 2006 and 2007, said maths journals in classrooms were one way in which to address the problem. The journals are used to keep track of pupils' problem areas.
"Before every unit, I do a pre-test the day before the new lesson to see which kids needed more attention and which ones can work on their own. There are also mid-unit tests [middle of a class] to see if they understand. If not, then we have to go back before they continue with the lesson and at the end of the unit we test again, to see if we need to redo the work,"
Adriaan said. "I always start a class with a mathcabulary — teaching pupils new words, such as common factor or equation which are relevant to maths. Part of my success is making sure the pupils leave the class more tired than I do." On educating science, Adriaan recommended daily experiments. "The first 15-minutes must include an experiment in the science classroom," he said. Adriaan, a former Bethelsdorp Comprehensive High pupil, has a teaching diploma from Dower College, three degrees (BA Ed, B Ed and BA Honours) from the Nelson Mandela Metropolitan University (NMMU) and a postgraduate diploma in Education for School Leadership from Rhodes University.
He lectured at a teaching college in Bloemfontein before leaving for the US in 1999 on a teaching exchange programme, Developing International Faculty Programme, in North Carolina. And while he has long since left, Adriaan was still full of praise for the teaching profession in South Africa.
"I don't do anything extraordinary. I am grateful for my lecturers at Dower College and UPE [now NMMU] who have taught me how to teach. Our teaching [South Africans] is a commodity and what is being fought for abroad. "We know how to teach," he said.
Caption: SQUARE ROOTS: St Claire Adriaan, a mathematics fundi, returned to his roots to visit family and friends in the Eastern Cape. He now lives in New Orleans and returned home on Monday
Picture by: B-JAY PIERCEY
By SHAANAAZ DE JAGER
Source: Daily Dispatch
Source: