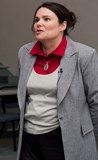 Rhodes > Latest News > 2013
"Teaching big classes at a small university"
Date Released:
Tue, 20 August 2013 11:59 +0200
Unassuming and erudite, Professor Jen Snowball of the Economics department at Rhodes University presented a lecture entitled: "Teaching big classes at a small university: strategies for managing student diversity in a 'killer course'". She shared her groundbreaking research and experience of teaching Economics with her peers.
Prof Snowball received the Senior Vice Chancellor's Distinguished Teacher's Award during the 2013 graduation for developing innovative techniques and specialised research into understanding how students learn.
The intake for the Economics (Ecos) 1 class is the most substantial of all courses at Rhodes with up to 600 students attending each lecture, which has resulted in some lectures having to be taught twice. It is also a particularly diverse group. The course attracts students from a variety of faculties.
As Prof Chrissie Boughey of CHERTL described in her introduction: "This is extremely daunting, but not the case for Jen who has delivered inspiring results with her research into using information and communication techniques to enhance learning."
Among these are 'mini-movies'– 5-10 minute long podcasts that use screen capture software to record targeted key points which can be downloaded from the course website and watched over and over again. In combination with using audio files, classic textbook teaching and PowerPoint, she has developed a layered approach to teaching and learning.
These applications not only stimulate visual learning but also linguistic learning, which is especially helpful to additional language English speakers.
"Fear was one of the driving factors behind developing these teaching techniques, as I moved from one side of the lectern to the other," says Prof Snowball.
When she first started teaching, it was a matter of sink or swim as she had no prior teaching experience and had to hold her own in front of a large Ecos 1 class. After approaching the Academic Development Centre (now CHERTL) "I realised that I wasn't the only one experiencing these challenges."
Economics is known as a 'killer course' because of the high failure rate. Prof Snowball asserts that knowledge structures also contribute to the challenges of teaching the course. "There is a strong emphasis on making an argument clearly in an applied way, which requires a lot of writing."
In arguing against the case of large classes equals poor quality, she discovered that at many well-performing universities, the lecturers had the least amount of contact with the students. "The students themselves are input, not just output. It's a case of peer power – they teach each other."
By gathering data on social/race groups, gender etc. from the data management unit, she ascertained that because the Ecos class has grown over the last 10 years, the group has become very diverse, including the faculties from which students came, with only about half from the Commerce Faculty.
The most important and surprising conclusions she made included information on how different percentages of the groups absorb information. "35% did not use the mini movies or audio files – they learn best reading and writing, but fewer than 5% viewed them more than 10 times," she said.
By consulting the statistical models of pass/fail class records, she explored different factors determining pass rates. The key findings here included that different testing methods produce different results and that men always score better than women.
This worldwide phenomenon is explained by understanding risk aversion; especially in the case of multiple choice questions. In short – men are more likely to guess and women more likely to leave the question out. "Language has an important impact on pass rates – so don't set complicated essays in week two," Prof Snowball said.
By using the 2012 pass/fail results, she could accurately predict this year's exam results, within a margin of 10%, establishing how many students would pass and how many may fail. "This has significant implications with a high degree of certainty. So the question is: why can't we do something before the student fails the exam? There must be some way we can intervene."
By Anna-Karien Otto
Photo by Desiree Schirlinger
Source: