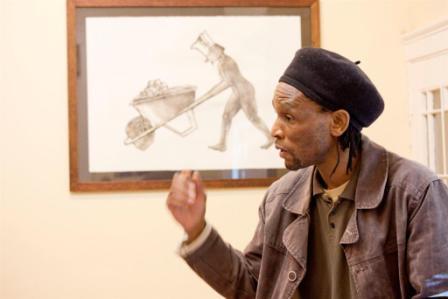 Rhodes > Latest News > 2013
The art of darkness
Date Released:
Tue, 3 July 2012 13:59 +0200
Visceral, deeply cynical and elegiac, wordsmith Lesego Rampolokeng presented what some would call a seminar and what he describes as "a blood-flesh-bone-brain-dust mix of liberatory art".
Presented at the Humanities Seminar Room recently, "Writing the ungovernable" was a howling lament of roiling words, telling the story of his impoverished childhood and years of struggle, encompassing 33 years as a writer (as he had "made the conscious decision" to become a writer at the age of 14).
Rampolokeng's latest volume of work, Head on Fire- rants/notes/poems 2001-2011 maps the last 10 years of his singular combination of rap, dub-poetry in the style of the protest poetry of Gil Scott-Heron and others ? exploring his complex views on religion, war, street violence, global economics and history.
At the launch at NELM's Eastern Star Gallery last month , he recited five of his poems from the volume, the first of which Basemental Platform on Top, (jazz, rock, rap and the blues) is dedicated to musicians Mongezi Feza and Johnny Mbizo Dyani, who left South Africa and died playing live onstage in 1986.
"I picked Biko's brains off the wall to write this," he said, adding that his son, KMS Billz, an emcee, asked him to read it to the gathering.
Rampolokeng will be at Rhodes till the end of July as a writer in residence, courtesy of the Andrew H. Mellon Foundation. Robert Berold, the manager of deep south publishers, who published Head on Fire, complimented Rampolokeng on his generous contribution to the budding young writers of the Masters in Creative Writing course.
With layered wordplay and dense metaphor, he traces a divergent path through his childhood in Soweto, his study of literature and denigration of racial stereotypes, decrying social and political hypocrisy.
Deeply critical of the impoverishment of his childhood, he says: "I'd been scratching my locks off in wonder at the 'I love Soweto' stickers my people covered their arses with, asking myself how one could express positive emotion for a slave-labour camp?"
Seeking solace in the heartening words of the likes of Mafika Gwala and James Mthoba and later Gil-Scott Heron and Frantz Fanon.
"The English literarily canonized racism & I found myself getting ridden Haggard/from here to where my people broke their spines/going down into King Solomon's mines & from their cashed flesh & bartered bones rose Johannesburg."
Ending up living and working abroad, "I sat, waiting to give words that would celebrate life & denigrate strife," soon finding himself returning to South Africa.
Ever the iconoclast, he dedicated his seminar to Cecil John Rhodes, performing an acerbic poem: which included the line: "...hoarse men of the epoch-eclipse/keep my name off your pork-lips..."
Decrying English as "the language of rape and oppression," he says "My intention is to piss on the Queen on purpose. You can't go beyond three syllables in English before crashing into another language."
In conclusion he said simply, "I am, I create," which resonated with how, in summing up his creative process, he quoted Nicanor Parra: "the poet's only duty is this: to improve on the blank page/'i doubt that is possible' & still 'write as you want /too much blood has gone under the bridge / to go on believing / that only one way is possible."
Story by Anna Karien Otto
Picture by Desiree Schirlinger
Source: