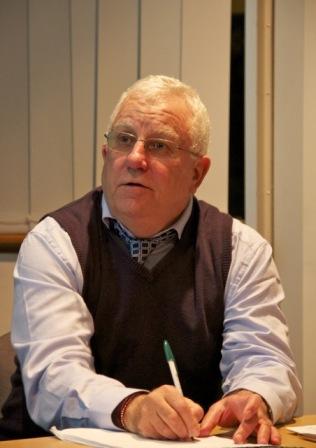 Rhodes > Latest News > 2013
The long view of South African industry
Date Released:
Thu, 23 August 2012 09:59 +0200
"We think South Africa is faced with the imminent fate of deindustrialisation," said Chief Director of Industrial Policy, Industrial Development Division, Department of Trade and Industry (DTI); Mr Garth Strachan at his talk, "South Africa's Industrial Policy: Past, Present and Future."
Guest speaker of Rhodes University's Department of Economics and Economic History, Mr Strachan, had a sobering message for Rhodes staff and students emerging in the midst of a protracted economic crisis.
Mr Strachan's division has undertaken an exhaustive analysis of the history of South Africa's economy and industry, comparing policies that supported the period of apartheid industrialisation, the more orthodox reforms of the post-apartheid democracy and present-day barriers to growth -- all this with the aim of developing crucial revisions in trade and industry which suit South Africa's unique situation.
The days of apartheid industrialisation saw an economy characterised by state owned enterprises, cheap coal and low priced electricity, which, according to Strachan, was the single biggest advantage for South African industries.
However, even with the reforms implemented in 1980 that introduced more privatised and corporate sectors, the growth path of this era was poorly designed and unsustainable.
Following on, the orthodox reforms of the succeeding democratic government did not remedy the problems of the preceding era. He said they were too narrowly focused and described as "a Washington consensus one-size-fits-all economic policy."
One of the blaring oversights was the emphasis on financial services and mining at the expense of investment in industrialisation, which, again proved to be a recipe for an unsustainable growth path.
Another shift in approach to industrial development came in 2007, with the advent of the Global Financial Crisis. Although a difficult time for countries economically, he said the resurgence of critical analysis of industrial and economic policies within academic circles has been a necessary and positive outgrowth.
One major gain has been the broad realisation that orthodox theories of economy are founded on blanket assumptions, which are inappropriate for the South African context.
"Our strategy as DTI has to be located in the specific structural constraints of our domestic economy," said Mr Strachan who emphasised the importance of looking at economic theories "rooted in concrete 'real world' research and policy developed by other countries."
Some of South Africa's major challenges remain soaring costs of electricity, high unemployment and the tendency to outsource goods and services to cheap overseas manufacturers, rather than procuring them domestically.
Thus an important phase of policy has been introduced through the National Industrial Policy Framework and the Industrial Policy Action Plan (IPAP). The IPAP has taken a decidedly comprehensive and integrated approach, using macro-economic policies that support more stable and real exchange rates, said Strachan. Increasing domestic production and producing more labour intensive sectors are integral to the plan, along with investing in green and energy saving industries.
For South Africa to realise a significant increase in employment and a more competitive global economy, the state must play a decisive role and intervene with development-focused policies, said Strachan. Drawing on past failures and successes is also key.
"Emulation is critical -- what's worked in other countries," he said, citing the BRIC counties as possible models.
Story and photo by Hailey Gaunt
Source: