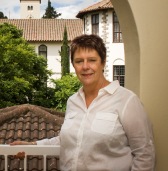 Rhodes > Latest News > 2013
Three universities pilot doctoral supervision course
Date Released:
Mon, 6 May 2013 08:55 +0200
An innovative course that aims to produce a new generation of doctoral supervisors kicked off this year at three South African universities. The plan is to roll out the free course to other universities to raise the country's PhD output.

The seven-week course was piloted at Rhodes University, the University of Fort Hare and Durban University of Technology.

It is structured around four themes – power relations in supervision, the importance of scholarship, supervisor practices and supervisor processes – and started when this year's semester began in February.

The initiative received funding of €1 million (US$1.3 million) from the Netherlands Organisation for International Cooperation in Higher Education, or NUFFIC.

The course was developed by a consortium consisting of four South African universities – Rhodes, Stellenbosch, Cape Town and Fort Hare – and three Dutch institutions – Vrije University Amsterdam, the African Studies Centre at Leiden University and the International Institute for Social Studies in The Hague.

The project team spent last year developing the course before launching it at a November National Research Foundation meeting attended by university representatives.

The PhD supervision course

The seven-week course has three phases: an initial four-day face-to-face phase facilitated by one Dutch and one South African academic; a six week online period; and a three-day face-to face phase facilitated by the South African facilitator involved in the first phase.

"Most supervisors have no training in supervision. They supervise on the basis of how they were supervised. Yet students have changed and the academic field has changed," Rhodes University's Professor Chrissie Boughey told University World News.

Boughey, who co-leads the project with Dr Harry Wels of Vrije University Amsterdam in The Netherlands, said the quality of supervision could impact on a doctoral candidate's ability to succeed as well as time taken to complete and the quality of the thesis, among other things.

She said that in South Africa, where there are diverse experiences in higher education, the course would try to leverage knowledge, as some students would have been privileged in doing previous degrees at universities with a strong research tradition while others would have little experience of what research involves.

Boughey said that as more and more research is now interdisciplinary and uses a wider range of orientations and methods, some supervisors who have little experience of working outside one methodological tradition will also benefit from the course.

Studies have shown that the top five regular producers of research articles in South Africa – the universities of Cape Town, Pretoria, KwaZulu-Natal, Stellenbosch and the Witwatersrand – have large number of permanent academic staff with doctoral degrees.

South Africa hopes to radically increase its number of PhD graduates and produce more than 100 doctoral graduates per million of the population by 2030. Across Africa, the current academic workforce is ageing and there is a need to produce future supervisors to replace those who will soon retire.

The roll-out

Boughey, who is also dean of teaching and learning at Rhodes University, said the roll-out of the course to other South African universities would start in the second half of 2013-15.

Funding was available to teach the course free of charge at 18 of South Africa's 23 public universities. There are 25 places at each university offering of the course.

"Some universities have already indicated that they would like the course to be run more than once. In this case, the course will be offered at cost, but the intention is not to make any profit from it," she said.

The number of students that universities can train depends on the individual institutions' strategic goals and how participation in the course can help to meet them, said Boughey.

For example, if a university has the goal of graduating more PhDs in science, technology, engineering and mathematics, it would make sense to identify supervisors from these areas for participation.

The course is open to students who are nearing the end of their doctoral work and anyone working at a South African university who possesses a PhD.

"Our experience is that interest in the course from current doctoral students is very high," said Boughey. Clearly, students recognised that the development offered by the course was important to their careers, she added.

The request to teach the course has to come from the university's research office, after which course facilitators visit the university in the planning stage. Discussions are mainly to try to align the course with the universities' goals and strategic priorities.

"We try to ensure that universities nominate participants for the course who will be able to facilitate the course on their own campus later," said Boughey.

The course materials are open source and will be made available to universities so that they can offer it for themselves, after the Dutch-funded version has been offered.

The course designers intend to use feedback from the pilots from participants and facilitators alike, and course materials will be revised accordingly, said Boughey.

She said it was hoped that the course could be taken to the rest of Africa in future, and funding for this was being sought.
By Ishmael Tongai
Source: University World News



Source: