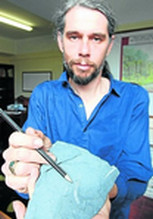 Rhodes > Latest News > 2013
Tiny fossil huge find for Grahamstown
Date Released:
Mon, 2 September 2013 12:59 +0200
A RHODES University palaeontologist has finally hit the jackpot with his discovery of a fossilised scorpion.
The scorpion, believed to have roamed the earth about 400 million years ago, is the earliest evidence of land animals on the ancient southern super-continent of Gondwana.

It was found outside Grahamstown by Rhodes University post doctoral research fellow Dr Robert Gess, and consists of a pincer, tail and stinger.

Gess described the discovery as "revolutionary and exhilarating".
"I have been excavating and researching the Waterloo Farm locality near Grahamstown since the mid-90s. We have found 20 different types of fish and numerous plant species in the area. But this is the first land animal discovered.

"With a predator, evidence suggests there are many prehistoric insects still to be discovered in the area. We hit the jackpot with this one."

Dubbed Gondwanascorpio emsantsiensis by Gess, a researcher at the time at Wits, details have been published in the latest volume of the scientific journal African Invertebrates.
The tiny fossils were found compressed between layers of shale taken from a road cutting near Grahamstown. – Additional reporting by Sapa
By: Tremaine van Aardt
Article Source: The Herald
Source: