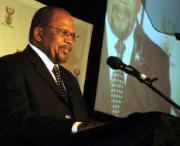 Rhodes > Latest News > 2013
Top judge is new Rhodes chancellor
Date Released:
Tue, 9 April 2013 08:21 +0200
"Judge Lex Mpati personifies the values we embrace at Rhodes University of rising above self, of humility, commitment, excellence and ethical behaviour. His is an inspiring story and we are honoured to have him as our chancellor."
These are the words of Rhodes University's vice-chancellor, Dr Saleem Badat, on the appointment of Judge Lex Mpati as the new chancellor of Rhodes University in February this year. Mpati was formally introduced to the university community during the graduation ceremony last week.

"It feels as if my life has come full circle," he said. "When I arrived in Grahamstown as a young boy I could never have imagined that one day I would be the chancellor of the university I attended and of which I am so proud."

Mpati, who rose from being a petrol attendant and bartender in Grahamstown to a student at Rhodes University, enrolled at the age of 30 with money he had earned from running the Ladies Bar at the Settler's Inn Motel.

Law was his calling and he started studying at Rhodes in 1979, graduating five years later with his BA LLB, in 1984. He went on to become an attorney, an advocate and a judge, ultimately taking up his current position as the president of the Supreme Court of Appeal, in 2008.

The university's motto is "Where Leaders Learn" and Mpati's life story reflects how leaders can rise from every sector of society.

"What made me especially proud when I received my honorary doctorate in law also from Rhodes University nine years ago, was when people from the community of Fingo Village where I lived would come up to me and tell me I had inspired them; that they had watched me go through university and qualify and it gave them the confidence to further their studies," he said.
Mpati delivered his first graduation ceremony address on April 4 and his advice to students was: "If you set yourself goals, and you say 'I want to do this' then that is what you must do, because it can be done. I did it, and you can too.

"Grab the opportunity of attending university with both hands because it is a great privilege and we need you to qualify and come back into society and contribute to the growth of a society in which we can respect each other, not as a white person or black person, but as human beings who want to contribute to peace, growth and upliftment in our country."

Mpati emphasises the need to educate our children. He and his wife Mireille have four children. Lyle, 40, their eldest, is a mechanical engineer, Dawn, 38, is an attorney, Ludi, 26, is in IT and Demi-Lee, 21, is studying law.

"We both worked hard in order to be able to give them a good education," said Mpati. Mireille qualified as a teacher and later as a nurse and worked as a psychiatric nurse at Fort England Hospital in Grahamstown until she retired in 2004.

Their circumstances are very different now but they started their married life in a two-roomed house in Victoria Road in Fingo Village. It was the same house Mpati had once shared with an uncle when he moved from his childhood home in Fort Beaufort to Grahamstown to attend Mary Waters High School. Walking 5km a day to get to and from school, he matriculated in 1967.

His first job after matriculating was as a petrol attendant at Albany Auto Services in Grahamstown where he worked from 1968 to 1970. A rather unusual young man, when he had time off from the garage, he would head for the magistrate's court and attend cases out of interest.

"I attended all sorts of cases - from early political trials of student activists from Healdtown and Lovedale, to criminal cases. I would sit in the back listening to the charges being put to people and agonise over how they tried to defend themselves. Mostly they were black people and not being educated they were not able to conduct a good defence.

"It was clear to me that the justice system was simply not working well and too many people were going to jail. That is what pushed me to decide to do law, I felt they needed someone who could defend them."

A further nine years would pass before he had earned enough money to enrol for his law degree at Rhodes. "By then I was running the Ladies Bar at the Settler's Inn Motel and when I told the then owner and manager that I wanted to study law, they encouraged me and allowed me to fit my bartending hours around my classes and studies," he recalled.

"I would walk up the steep hill from campus to the Settler's Inn to open the bar at 11am, then close it at 2pm and go to the library. I worked hard and studied hard and even had to miss rugby games as a result.

"I enjoyed rugby very much, it was always the sport for me, and still is although I have long since hung up my boots and am now on the administration side," said Mpati, who currently chairs the highest judicial rugby committee covering South Africa, Australia and New Zealand (Sanzar).

As a young man he was a founding member of the South Eastern Districts Rugby Union. It was affiliated to the non-racial South African Rugby Union whose president, the late Abdullah Abass, was based in Kimberley. They strongly motivated for integrated rugby and, in the early 1970s, played a game against a combined "white" side in Grahamstown.

"Through our inroads in rugby, many people were conscientised about the need for a non-racial society and, consequently, a number of ' white' players, including players from Rhodes University, joined 'black' clubs in the townships," he explained.

In his second and third year he received a scholarship, which covered his studies with some change to buy books. By this time he had met, courted and married Mireille. In his third year he started working as a clerk for a legal firm in Grahamstown, and he stayed on after he graduated.

"I mainly did criminal cases, which is what I wanted to do. I was fulfilling my goal of helping people and I felt very good about it," said Judge Mpati, who was admitted as an attorney in 1985.

In February 1989 he joined the bar and worked as an advocate from his chambers in Grahamstown until 1993 when he took up the post of in-house counsel at the Legal Resources Centre and immersed himself in human rights work in the Eastern Cape.

He subsequently became a judge and two years later he was invited to the Supreme Court of Appeal in Bloemfontein where he was permanently appointed in 2000. Eight years later he was appointed president.

He is based in Bloemfontein but Grahamstown is still his home and he and Mireille return whenever they can.

Now in his fifth year as the president of the Supreme Court of Appeal, he describes it as "an extremely challenging job".

"The judges at the Supreme Court of Appeal need to be the best in the country, and we need to maintain that standard, but at the same time we need to see the judiciary transform, particularly when it comes to race and gender," he explains.

"As part of the process of transforming the judiciary you appoint a combination of the best judges and judges with the best potential to reach the level at which you wish to maintain the court."

Academic institutions, he adds, are following a similar transformation path where the university "has to apply its mind to the process of transforming its entire being while attracting the best academics and the best researchers to maintain its high standards.

"In the transformation agenda of our society race, in terms of equity, continues to be a consideration in the workplace, but even there, there must come a time when we stop looking at race and start recognising and embracing the skills and qualifications of all South Africans.
Written by: Heather Dugmore
Source:Heather Dugmore