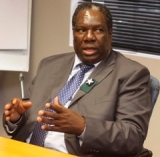 Rhodes > Latest News > 2013
Top muso Mahlasela rocks Rhodes
Date Released:
Mon, 8 April 2013 08:55 +0200
CELEBRATED jazz and Afrofolk musician, Vusi Mahlasela, wowed Rhodes University graduates, academics and their families this weekend with an impromptu performance during one of the university's graduation ceremonies.
Born in Mamelodi, Pretoria, Mahlasela was awarded an honorary doctorate at the ceremony for his role in helping to unify South Africa and contributing to nation-building through the medium of popular African music and through his social commentary.
He urged graduates, particularly those in the field of music, to conduct their studies in a way so as to close the gap "between the ivory towers and the ivories on the piano - in other words, between the elite and the grassroots".
Mahlasela, also known as "The Voice", said he was humbled by the award. In his work, Mahlasela says he has emphasised the importance of education. Ironically, he had only achieved a Standard 5 at school because of poverty and political activism.
He said current popular music seemed to glorify money, booze and sex instead of the spirit of collective good or ubuntu. "A measure of a true artist is the one who is not concerned about making a living, but creating life, generating and archiving knowledge, as well as redirecting negative past and current energies or experiences towards positive destiny."
Photo by Stephen Penney
By ADRIENNE CARLISLE
Source: DAILY DISPATCH
Source:DAILY DISPATCH