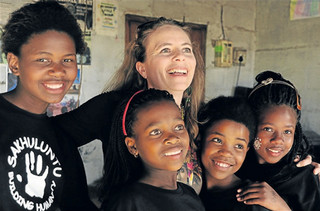 Rhodes > Latest News > 2013
Touching lives with drama therapy
Date Released:
Wed, 16 October 2013 09:59 +0200
It is mid-afternoon in a sunny Grahamstown as children begin arriving for their Sakhuluntu cultural group gathering —the delight on their faces and in their voices testament to their enthusiasm and anticipation.
Here — under the guidance of Rhodes University senior drama lecturer Alex Sutherland, the group's leader, founder and self-described "cultural activist" Vuyo Booi, and Sutherland's co-facilitator Luvuyo Yanta — the youngsters will enter and explore a fascinating world of traditional dance and drama in the humble setting of Booi's RDP home.
This is just one facet of the volunteer work that Sutherland — who has been in Grahamstown for 13 years — has brought to its marginalised communities. She employs theatre craft to work with such diverse groups as maximum security psychiatric patients, street children and many others like those in the Sakhuluntu group. It is for these efforts that Sutherland was nominated and selected as a finalist for The Herald GM 2013 Citizen of the Year award.
Her work at the maximum security unit (MSU) at the Fort England Psychiatric Hospital has given remarkable insights into the value that drama and theatre can offer its inhabitants. The MSU is the sole facility in the country where male forensic psychiatric patients who require maximum security — due to the excessive violence of the crimes they have committed — can be accommodated.
"Being labelled as a mental patient or criminal is very constricting — and what drama does is it allows all of us to perform other identities," she said. The workshops provide the opportunity for participants to take on all manner of other identities. "To create a creative play space within a prison environment is quite transgressive — and amazingly fulfilling. For Luvuyo and me, it doesn't matter how tired we are, it's the most fulfilling time of the week. It's a generous space," Sutherland said.
"I really witness the change and joy they [patients] get from it," she added. Her "right-hand man", Yanta, credited Sutherland for not only her drive, but for also providing him with a philosophy-changing realisation. "What she has taught me is that it's a two-way street. I have to give them something and they have to give me something. It's a case of listening to each other."
Sutherland said Yanta's presence - apart from being able to translate from Xhosa and advise her on cultural issues — was pivotal given the all-male context of their meetings with the patients. Sutherland said in the psychiatric context, the reports she got back were that the therapy sessions between patients and psychologists had changed as a result of the workshops because the "narratives of what they're speaking about completely open up".
This work is done purely as a volunteer. "Alex has made a huge difference in these communities," Yanta said. "She is amazingly driven and I am proud to be a part of what she is doing here." Sutherland said the volunteer work done by students was also an important bridge between the university and the community. "It allows them [students] to see other sides."
Sutherland also organises theatre workshops at the medium category Grahamstown correctional facility and her work with street children has translated into performances at the National Arts Festival. Earlier this year, Sutherland received the Rhodes Vice-Chancellor's Distin- guished Community Engagement Award at the university's graduation ceremony.
Caption: YOUNG UPSTARTS: Citizen of the Year finalist and drama lecturer Alex Sutherland prepares Sinawo Sodidi, Linda Nqweli, Zimkitha Ntshwaxa and Aviwe Bavuma for their cultural group gathering Picture by: MIKE HOLMES
By Brett Adkins
Article Source: THE HERALD
Source:The Herald