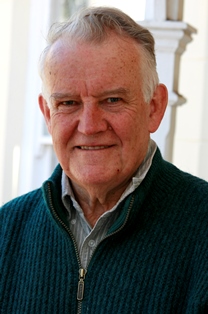 Rhodes > Latest News > 2013
"To whom are academics responsible?"
Date Released:
Mon, 9 September 2013 08:59 +0200
Widely considered one of the leading scholars of his generation in Comparative Government, Political Sociology, Theory of Politics, African Politics, Marxism and Sociological Theory, Prof Gavin P Williams recently addressed issues of academic freedom and responsibility.
Prof Williams asked the following questions: To whom are academics responsible? Who defines the discourses of research, and of cultural practice? Who pays? Should we retreat from the corruption of engagement with the world? Can we? What is the virtue of the academic calling?
Prof Williams recently completed a visiting professorship at Rhodes University's Institute for Social and Economic Research (ISER). Before retiring in 2010, Prof Williams was a fellow and tutor in Politics at the University of Oxford for more than 40 years where he also enjoyed a legendary reputation as a supervisor and teacher. Prof Williams' presentation, titled 'On Academic Responsibilities' was hosted by the Institute of Social and Economic Research, and the Faculty of Humanities in conjunction with the Harold Wolpe Memorial Trust.
Prof Williams began the lecture by drawing attention to the 'Draft regulations for the establishment of the National Institute for the Humanities and Social Sciences'. According to Prof Williams, these regulations raise prior questions. "To whom are we academics responsible? Whose questions should we answer?" Prof Williams reflected critically on the work of social theorist and socialist Harold Wolpe who argued that committed researchers should be engaged with the research priorities of the 'liberation movement'. However he warned of the pitfalls of an explicit commitment to supporting social change on behalf of a liberation movement or undertaking research for institutions with explicit policy agendas such as the World Bank or institutions of government or those driven by commercial interests such as pharmaceutical companies and oil companies.
Prof Williams said the commoditisation of universities can constrain rather than encourage academics and their performance in that they have obligations to those who fund them. "To apply for funding in academia it becomes necessary to adopt certain discourses and ways of speaking which become incorporated into academic institutions. You begin to think about problems the way funders do, and certain assumptions become embedded within the way people think," Prof Williams said.
He however explained that the pursuit of knowledge for its own sake may turn out to have unanticipated consequences. "On the other side, discursive censorship may exercise more constraint than direct intervention. Social scientists just tend to find their theories blow up in their face."
He also described universities as structured by hierarchy and favouritism, careerism and game-playing, gendered and racial differentiation and exclusion, and in some cases bullying as a form of management. "The point is that these are structured into the institutions. Institutions matter and some arrangements provide better protection than others," he said.
Prof Williams challenged audience members: "What if we say, after due consideration that our clients are asking the wrong questions or starting from the wrong end? Should policy research study policies as process, or as ends to be realised? "
The case for academic freedom and public funding of teaching and research, Prof Williams explained, is not that academics should be free to "take their research where they want and to spend their time as the mood may take them. It is that teaching and research depends on the freedom to raise questions, to experiment, and to think, as Einstein did with no research funding, working in the Zurich Patent Office." To turn Marx round, Prof Williams concluded, "philosophers have hitherto tried to change the world. The task however is to understand it." A lively debate ensued following the provocative presentation.
Prof Williams holds a BA from Stellenbosch University, MA and MPhil from Oxford University and Dlitt from Rhodes University. He retired from Oxford University in 2010 but retains an active research agenda. His interests are in the empirical study of politics and society, in political and social theory and in the impact of ideas, good and bad, on social and political action. Prof Williams has published widely on politics, political economy and land and agricultural policies in Africa, particularly Nigeria and South Africa. He is currently studying the history of the wine industry in South Africa.
Story by Sarah-Jane Bradfield
Source: